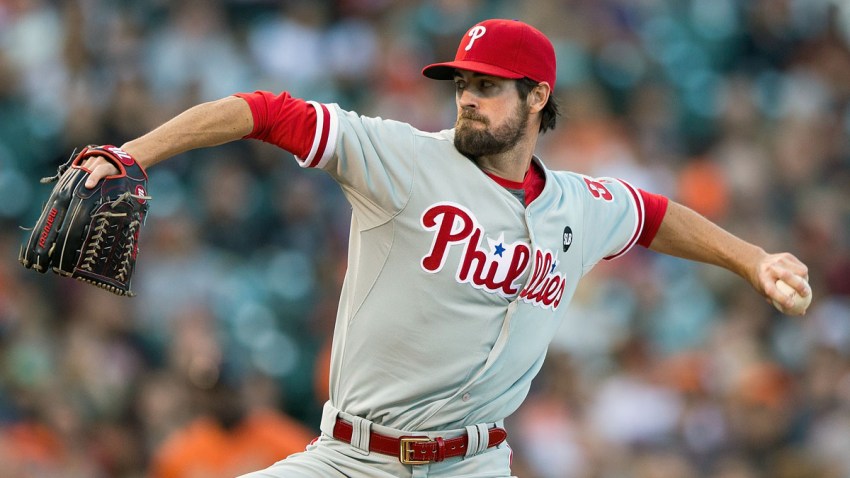 Chalk one up in the win column for Jon Daniels. While you're at it, realize that Nolan Ryan had absolutely nothing to do with what happened late Wednesday night.
In case you've been under a rock, the Texas Rangers struck gold when they acquired 31-year-old ace lefty Cole Hamels from the Philadelphia Phillies and they did it by having their way in every way possible.
Don't get us wrong here, the Rangers didn't get Hamels — an ace they now control through 2018 and most likely 2019 — for scraps. They gave up some pretty salty prospects in catcher Jorge Alfaro, outfielder Nick Williams and pitching Jake Thompson, but they did it without giving up any of the three prospects they really wanted to hold on to in Joey Gallo, Nomar Mazara and Chi Chi Gonzalez.
Sports Connection
Connecting you to your favorite North Texas sports teams as well as sports news around the globe.
The Rangers not only got Hamels, but they also got a bit of a project reliever in Jake Diekman, a lefty who throws gas but struggles with control from time to time. He should immediately slide into the Rangers' struggling 'pen.
Getting Hamels was great enough for Daniels. Getting cash from the Phillies to absorb some of Hamels' remaining contract made it even better. But the exclamation point on the deal from a Rangers' perspective was the fact they got the Phillies to not only take rehabbing starter Matt Harrison off their hands, but also his entire remaining contract of more than $30 million.
The Rangers didn't win the deal in a landslide, but they won the deal. Here's why...
Prospects are prospects. Remember other prospects the Rangers have held on to in recent years and how they've panned out? How about Jurickson Profar and Mike Olt. Remember how awesome those guys were?
Cole Hamels is, at worst, a No. 2 pitcher and a good one at that. He's more likely a co-ace to pair atop the rotation with Yu Darvish for the next two years while Darvish is under contract and then your ace for two years after that, even if Darvish goes elsewhere.
The Rangers have never been able to lure star pitchers to Texas in free agency. So now, they've brought one to town without giving him a say in the matter, and they have him for the long haul.
The money they recoup from the Harrison deal and in straight cash from the Phillies will now allow the Rangers to go out shopping this winter for some right-handed bats and bullpen help, which are the two glaring holes on this roster.
There you go. Give Daniels his due. He struck gold in what could go down as one of his biggest wins, right up there with the Mark Teixeira trade and the fleecing of the Braves in 2007.
Copyright FREEL - NBC Local Media