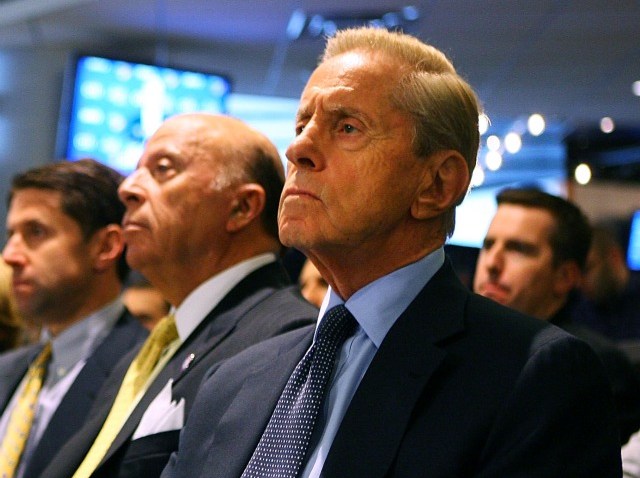 You can't talk about Friday's bombshell announcement that the Wilpons are looking to take on a partner to help the Mets "have the necessary resources to fully compete and win" without talking about Bernie Madoff.
The Wilpons need cash so that they can deal with the lawsuit brought against them by the trustee for the Madoff Victims. We don't know how much money is being sought (or how much money the Mets borrowed against money they thought existed), although NBC New York and the New York Times are trying to find out, but that's the only reason that they would now be looking to take on partners at this moment.

There's nothing odd in and of itself about diluting ownership -- the Steinbrenner family owns less of the Yankees than the Wilpons own of the Mets -- but the urgency of their move on Friday does make you think they need cash in a pretty serious way.
That prompts a question: can they guarantee that they will be the majority owners of the Mets when all is said and done? How can they be so sure that they'll be able to get what they want by dangling only 20 to 25 percent of the team, as they said during a conference call on Friday afternoon? The Times suggests that Irving Picard, the Madoff trustee, could be looking for $1 billion, which is a serious amount of money. The walls could start closing in before the Wilpons find someone willing to hand them money and keep their mouths shut.
Sports Connection
Connecting you to your favorite North Texas sports teams as well as sports news around the globe.
Tom Hicks would be the first to tell them that. As Craig Calcaterra of Hardball Talk points out, the former owner of the Texas Rangers was leveraged to the hilt and originally wanted someone to come in for a small chunk of the team to help pay off his debts. That turned into bankruptcy and Hicks losing total control of the team to Chuck Greenberg and Nolan Ryan. It's one thing to look for a small investor when times are good, in other words, but not too many people are looking to take minority shares of a business run by people in trouble.
Significant to this discussion is the fact that SNY is not part of the Mets deal. Jeff Wilpon called it "totally separate," which makes it an even harder sell from a cashflow perspective. The Mets' revenues have taken a hit over the last couple of years while SNY has been very successful, so the Wilpons would be telling a minority investor that they would get the less valuable piece of the franchise while the Wilpons, the people in distress, would get to hold onto the cash cow.
From an outsider's perspective, that doesn't sound like a particularly appealing opportunity for investment. It does seem like a pretty appealing opportunity for someone who wants to buy controlling interest in a baseball team that plays in New York City. If such a person were to step forward and make an overwhelming offer to the Wilpons, could they really say they'd refuse it?
Josh Alper is a writer living in New York City and is a contributor to FanHouse.com and ProFootballTalk.com in addition to his duties for NBCNewYork.com. You can follow him on Twitter.
Copyright FREEL - NBC Local Media