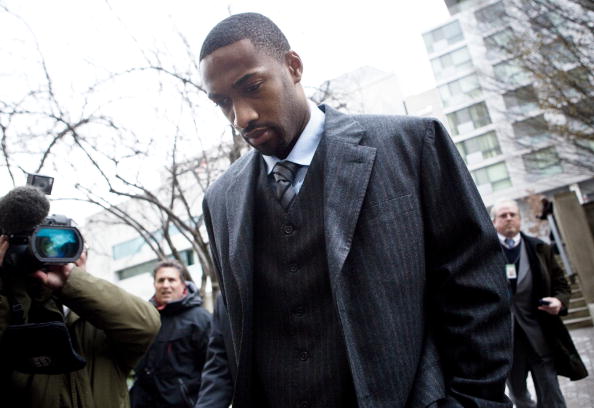 Prosecutors want Washington Wizards star Gilbert Arenas to spend time in prison for his gun crime.
In a sentencing memorandum filed Tuesday, the government recommended a six-month sentence with three months suspended, three years probation and 300 hours of community service. Arenas's lawyers requested probation with community service.
Arenas, a three-time NBA All-Star, acknowledged storing four unloaded guns in his locker at the Verizon Center, saying he wanted to keep them away from his young children. He said he took them out of the locker Dec. 21 in a "misguided effort to play a joke" on teammate Javaris Crittenton.
Sports Connection
Connecting you to your favorite North Texas sports teams as well as sports news around the globe.
Arenas and Crittenton started bickering over gambling losses during a card game on the team plane as the Wizards flew home from a West Coast road trip on Dec. 19. Their dispute became heated when the team reconvened for practice two days later, when Arenas took the guns from his locker. Crittenton produced a gun as well.
Crittenton also pleaded guilty to a gun possession charge. His lawyer said he brought a legally owned, unloaded handgun to Washington "only because he legitimately feared for his life." The government acknowledged that Crittenton didn't threaten anyone with it. He was sentenced to a year of unsupervised probation and ordered to pay a $1,250 fine. He also was ordered to participate in the NBA's Haiti relief effort and to counsel disadvantaged children in D.C.
In the memo, prosecutors accused Arenas of not fully accepting responsibility for his actions nor showing remorse. In particular, the prosecution cited contradictions about why and when Arenas took four handguns to the Verizon Center and his attempts to minimize his guilt, as well as accusing him of feigned ignorance of D.C.'s gun laws. The memo highlighted Arenas's joking about the incident in its aftermath.
"The defendant's conduct since the time of the incident establishes that he has shown little genuine remorse for anything other than how this incident may affect his career," the memo reads.
Arenas's lawyers said the high profile of the case and the publicity surrounding it have clouded the truth about the incident.
Arenas has publicly employed the goof ball defense, saying he meant no harm and never takes anything seriously. He repeatedly joked about the matter with reporters and on Twitter. One day after Arenas pantomimed shooting teammates in a pregame huddle before a game at Philadelphia, NBA Commissioner David Stern suspended him indefinitely. Arenas at one point said: "I'm a goof ball and that's what I am, so even doing something like this, I'm going to make fun of it and that's how I am."
Assistant U.S. Attorney Christopher R. Kavanaugh wrote in the memo that Arenas should be treated like anyone else caught bringing four guns into the city for a confrontation.
The NBA has since suspended Arenas and Crittenton -- who hadn't played this year because of an injury -- for the remainder of the season.
On Jan. 15, prosecutors agreed not to seek more than six months as part of a plea deal with Arenas, who is scheduled to be sentenced Friday. Superior Court Judge Robert Morin is not bound by that agreement. The felony charge of carrying a pistol without a license carries a maximum penalty of five years, but Morin could also let Arenas go with just probation.