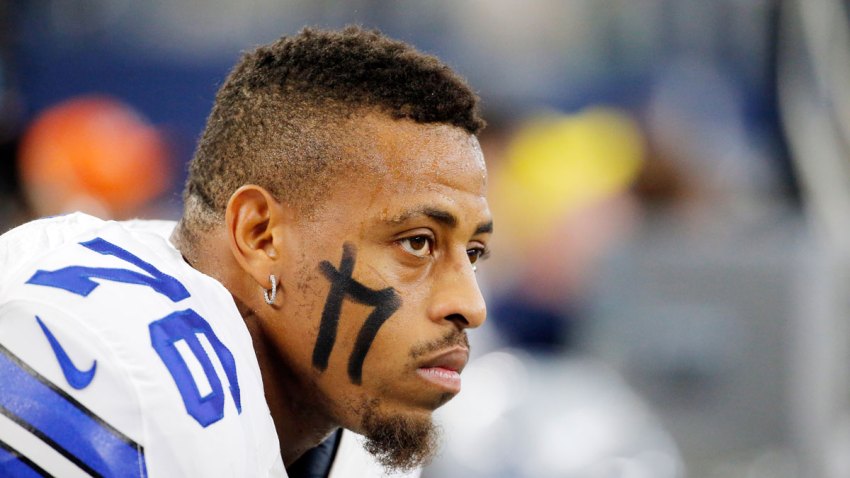 A day after a domestic violence charge against Dallas Cowboys defensive end Greg Hardy was expunged, photos that appear to show his bruised ex-girlfriend on the night of the alleged attack emerged.
In 2014, Hardy was convicted for threatening and assaulting his then-girlfriend Nicole Holder in Charlotte, North Carolina, NBC Sports reported. About a month after the alleged attack, the NFL suspended him with no pay for 10 games, according to a press release put out by the league's Vice President of Communications, Brian McCarthy. The suspension was later reduced to four games.
The charges against Hardy have been dropped and expunged, which means they were erased from the eyes of the law.
Sports Connection
Connecting you to your favorite North Texas sports teams as well as sports news around the globe.
The charges were dismissed in February 2015 after Holder did not appear in court. The Mecklenburg County district attorney's office said it had "reliable information" that the pair had reached a civil settlement, according to ESPN.
But the case came back into the public eye on Friday when Deadspin published photos that it claims were taken on the night of the alleged attack. The photos released show a woman, identified as Holder, with bruises on her back, arms, legs, neck and face and two photos of what appears to be Hardy's scratched face.
"I'm not going to make any comments about the case whatsoever, "Hardy's attorney, Chris Fialko, told Deadspin. The attorney didn't return NBC Owned Television's message requesting a comment.
Mecklenburg County Court tells NBC News that "we did not release the photographs in the Greg Hardy case."
According to police documents that detail the alleged May 13, 2014 attack, Hardy and Holder came home from a night of drinking when they began to fight in the football player's bedroom.
When Holder tried to get up, Hardy pushed her and then threw her into the bathroom where she hit the wall and fell into the bathtub, she told police. Holder said that bruises on her back were from Hardy throwing her onto a futon full of guns.
"He told me he should kill me," Holder said, according to the report. "I said go ahead ... just do it so I don't have to."
Holder said Hardy gave her time to leave the apartment, but later called police to tell them she had been stalking him.
Deadspin said it received hundreds of pages of records, some already reported, including police reports, interview transcripts and photos. The publication released over 40 photos that appear to show Holder with bruises on her arms, legs, chin, neck and foot.
In March 2015, the former Carolina Panthers' star signed with the Dallas Cowboys. Since starting, the team's owner Jerry Jones has called Hardy a "real leader" who inspires the team, even after video showed him shoving a coach during a game.
"While we did not have access to the photos that became public today, we were and are aware of the serious nature of this incident. We as an organization take very this seriously. We do not condone domestic violence. We entered into the agreement with Greg fully understanding that there would be scrutiny and criticism. We have given Greg a second chance. He is a member of our team and someone who is grateful for the opportunity he has been given to move forward with his life and his career," Jerry Jones wrote in a public statement through his public relationships representative.