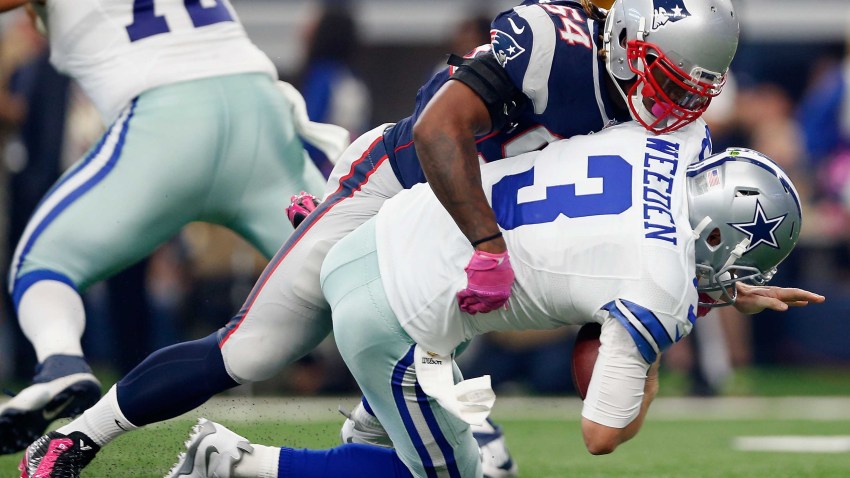 10. It's time we put the offensive line on the list of the Cowboys' problem. Lauded by a lot of us – including me, guilty – as the best in the NFL, Dallas can't run and, really, can't do anything offensively. Considering their offensive line and their quarterback, 3rd-and-1 just has to be a run. But inexplicably it isn't.
9. The Patriots have an unprecedented legacy of big cheats (spying, deflating footballs, etc.). But does any team in the NFL orchestrate more little cheats, i.e., pick plays? They got called twice for offensive pass interference, but I'm estimating they ran the ploy 10 times, including an obvious pick on Julian Edleman's back-breaking, 59-yard touchdown. New England is by far the NFL's best pick-and-roll team.
8. We can dissect and analyze and bemoan and mutter, but here's the bottom line: With Brandon Weeden as the starting quarterback the Cowboys have lost three in a row and NFL teams have lost 11 in a row. No rational explanation to say that's anything other than horrible.
Sports Connection
Connecting you to your favorite North Texas sports teams as well as sports news around the globe.
7. Seriously, Jason Witten's "fumble" was a catch but Devonta Freeman's wasn't in Atlanta? Watch those two plays and tell me the NFL isn't losing its mind. I've been watching/covering the NFL since 1969 and I have no idea what a catch looks like anymore.
6. The Cowboys have had some horrible seasons, but I don't remember a more hapless offense than Sunday's first half. A total of three first downs (one by penalty), 59 yards, seven 3-and-outs and zero chance of sniffing a touchdown. At halftime the Cowboys had 5 sacks of Tom Brady, Rob Gonkowski had only one catch for six yards and their 10-point deficit felt like 100.
5. You can be hurt. You can be mediocre. But you don't have to be dumb. I wish the Cowboys were smart enough to take a defensive penalty when the Patriots were at their 1-yard line, but they're not. Just jump offside, draw a penalty and give New England a half-yard. Instead, they burn a timeout to get their personnel right … and then allow a quarterback sneak for a touchdown on the very next play.
4. This is the first three-game losing streak of Jason Garrett's head coaching career. And halftime might have been his low point. Asked if he would consider a quarterback change, Garrett told CBS "We're gonna keep banging away. Weeden's gonna get it done for us." What. The. What?!
3. While CBS' Jim Nantz was preaching from atop his high horse re: Greg Hardy, all I could think about was the time he admitted to having an affair on his wife during a divorce trial. Obviously I'm not trying to equate infidelity with domestic violence, but … just stop it, Jim. You're no Saint.
2. Hardy is a monster, and a huge asset as a pass-rusher. Reminds of Harvey Martin racing around the right end. He had a better chance of scoring than Weeden. But other than that, today was an absolute waste of time and an undeniable step backward.
1. I called for Matt Cassel to start ahead of Weeden the day the Cowboys acquired him http://www.nbcdfw.com/blogs/blue-star/Just-A-Matter-Of-Time-Until-Cassel-Becomes-Cowboys-Starting-Quarterback-328842371.html. It's now the Bye week and we've seen enough of Weeden's lack of pocket presence and inability to see down the field. He's not the Cowboys' only problem, but he is their biggest problem. Who's with me?

A native Texan who was born in Duncanville and graduated from UT-Arlington, Richie Whitt has been a mainstay in the Metroplex media since 1986. He's held prominent roles on all media platforms including newspaper (Fort Worth Star-Telegram, Dallas Observer), radio (105.3 The Fan) and TV (co-host on TXA 21 and numerous guest appearances, including NBC 5). He lives in McKinney with his wife, Sybil, and two very spoiled dogs.
Copyright FREEL - NBC Local Media