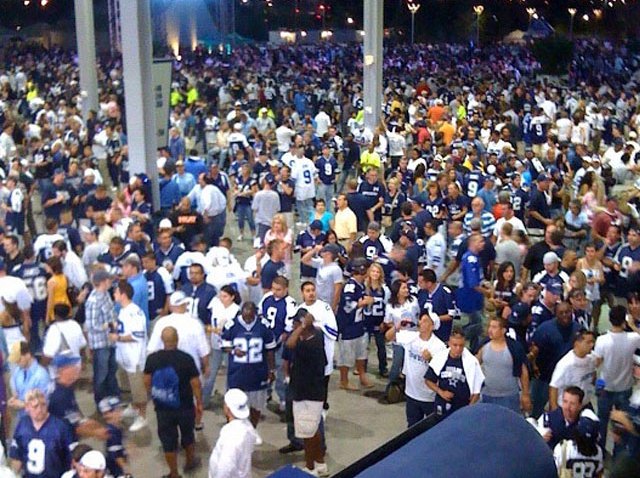 For three hours Sunday night, in between Tony Romo interceptions, we were treated to a giant adverthon for Cowboys Stadium. Jerry Jones was interviewed not once, but TWICE by NBC, and asked all sorts of non-threatening questions about how awesome the stadium was. Even when Bob Costas challenged Jerry Jones on ticket prices, the Double J was quick to take the opportunity to hawk Party Passes and lower price point seats. Al Michaels and Cris Collinsworth fawned over the place, even the cage dancers. Who doesn't like cage dancers? Commies, that's who.

But that's not the whole story now, is it? Of course the Double J will say nice things about the stadium. Of course Michaels and Collinsworth will gush about it. They're the media. They get the best seats, the best amenities, and access to all the free quesadillas they can handle.

The real story of Cowboys Stadium isn't about what Jerry or the media thinks. It's about YOU. It's about whether or not YOU had a good time at the new digs, and if you think you got your money's worth, regardless of what kind of ticket you bought. After all, the Double J has promised a whole new level of fan experience. The question is, did he deliver? Or is this place just an elaborately designed ruse to separate you from living within your means?

So, starting today, consider this an open invite to you, the fan, to send us all of your Cowboys Stadium stories, good and bad. It's our Real Fan Stadium Project. Email me right here, or comment below all season long and give us your stories. We want to know what you think, what you saw, and what you experienced. We want to know the real truth about this new stadium, and not just hear about it from the massive PR push. Where are the best seats? Where's the best place to eat? Are Party Passes worth it? (Hint: NO) Where's the best view on the concourse?

Here's one real fan story to get you started…
The whole night was horrible! From the second my co-worker and I got there to the moment we left at halftime, we were in shock! We were treated horribly. I did pay the party pass price expecting to not get good seats or decent standing view. However, when we were told we were unable to use the restrooms up AND downstairs we were amazed at the disrespect that the workers/event staff showed us...

I will continue to promote the horrible treatment that was shown to my fellow friends and also anyone who shows interests in the remaining "party pass" games. I believe Jerry Jones was only into the party pass to receive the record breaking numbers on his amazing stadium and achieved that!

Half of the people who paid the party pass did not even get to step foot in the stadium and watched it outside!! I love the Dallas Cowboys as it has been a big part of my childhood, but I refuse to support "MY TEAM" when I have been so greatly disrespected in many ways because of the lower price I paid to view the game. I honestly could have viewed the game at home with my TV and had a place to sit...and a restroom to use! Jerry got his record breaking numbers, but he left the lower class in the dirt! I guess it's true, you get what you pay for!!!!!


No bathroom access? I believe that makes your party pass a Roman Party Pass. And one more. This comes from a direct letter to the team:
Sports Connection
Connecting you to your favorite North Texas sports teams as well as sports news around the globe.
I am unhappy customer that recently attended the opening game at the new stadium on, September 20, 2009. My friends and I purchased the party passes with the notion that we would be able to see the field. Thousands of others including myself were led to believe that we would be able to actually see the game live and the field. I even remember seeing newscasts emphasizing this point with Jerry Jones himself showing the area that the party pass customers would be standing in.

Never once did it say that we would be unable to get into the stadium for over half an hour because Jerry Jones sold too many tickets and the stadium was full. Also, the tickets never said that we would not get a chance to see the field with our own eyes, and be forced to watch the game on a television screen outside that failed to show the entire game. Furthermore I could have stayed at home if I wanted to watch the game on television as it would have been more comfortable. I fully believe that the reason that this many party passes were sold is to fulfill Jerry Jones' wish to gain a world record. That is extremely selfish, and left many faithful customers disappointed.

I even remember saying at one point in the evening that I might pick a new favorite team. You claim that you are America's team, but in the end you let America and your local fans down. Last night was a horrible experience, and you can be sure that I will forward my opinion to local news programs. I feel that other prospective party pass customers should be made aware as to what type of experience they will have. It is extremely disheartening to know that Jerry Jones does not care about the fans enough to apologize or issue refunds. Just because we did not spend thousands of dollars to buy seats doesn't mean we can be chewed up and spit out as we were last night.

Best regards from a highly, disappointed customer,

Courtney J.


Those are just two fans. Let's hear from more. Hopefully, you folks who had actual chairs to sit in had a better time.