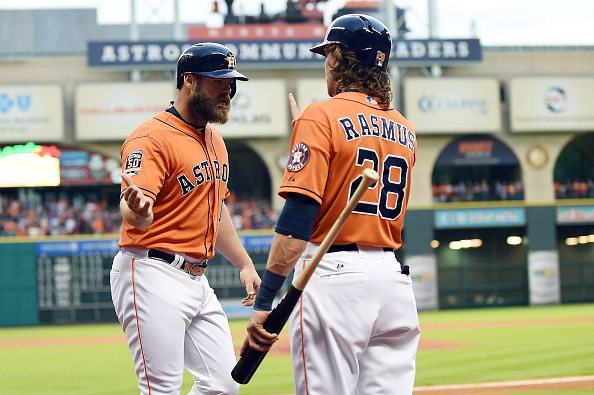 With a chance to go see a huge series just four hours away, I packed up the car this weekend and took my wife and daughter down to Houston for a pivotal series in the AL West race between two budding rivals — no longer a forced rivalry — as the Rangers took on the Astros at Minute Maid Park.
Having never been to the Astros' park before — mainly because I despise Houston and had no prior reason to go there — a few things stood out from the get-go.
First off, tickets are expensive. Much pricier than games at Globe Life Park. We ended up going the StubHub route, which was obviously more expensive for a huge series, but even buying tickets through the team was considerably higher than going out to Arlington. Second, parking is a mess, and we ended up going the close, $30 route to a private lot, mainly because of our near-2-year-old in tow. Third, Tal's Hill, man. That thing is ridiculous beyond belief, but give the Astros credit for getting rid of it before the 2016 season begins.
Sports Connection
Connecting you to your favorite North Texas sports teams as well as sports news around the globe.
Once we were in, I immediately noticed one thing. I've long been a hater of indoor baseball with my best example being the Rogers Centre in Toronto, which I'm sure is hoppin' now that they're good, but when I went it made for the most stale, boring sporting event I've ever attended in person.
For some reason, Minute Maid had a different feel. It could be because you could see the skyline through the glass in left field, but it just felt different and not so sterile.
We've gone over the bad, which was minimal, now let's look at the good.
Part of the deal with the indoor thing? Oh yeah, a nice, cool 73 degrees. Have to say, that's pretty awesome when you're in Texas. The concessions, while not as adventurous and unique as the Rangers' was more affordable and definitely not bad.
Lastly, the people were all friendly. It might've had something to do with the mass amount of Rangers fans in attendance, but there was no ridiculous coming from the home fans, at least where I was sitting. Overall, Minute Maid is one of the better parks I've been to, and I never thought I'd say because of the indoor factor and because it's in the most god-forsaken city in Texas.
Copyright FREEL - NBC Local Media