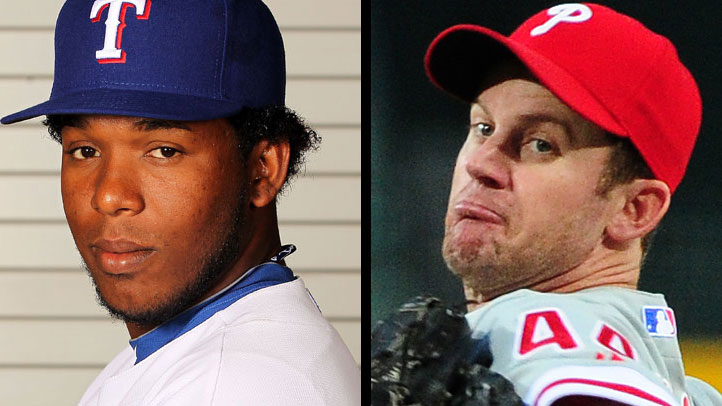 Roy Oswalt is without a doubt an accomplished big-league pitcher with a career 3.21 ERA with a .631 winning percentage. And for years, Oswalt was one of the biggest bulldogs in all of baseball, averaging over 30 starts a year until recently when he put up just 23 starts last season with the Philadelphia Phillies, who didn't pick up his option for the 2012 season.
Now, Oswalt is trying to become this year's version of former Roger Clemens by cherry picking which team he wants to join months into the baseball season as he's been "working out at home" since teams were in spring training.
It's been made known that Oswalt would like to pitch for the Texas Rangers because of location (from Mississippi, played in Houston for 9 1/2 seasons) and because of his prior relationship with Rangers president/owner/figure head Nolan Ryan because of his prior relationship with the Astros.
Sports Connection
Connecting you to your favorite North Texas sports teams as well as sports news around the globe.
That's all well and good, especially now that the Rangers are without starting pitcher Neftali Feliz for what sounds like at least two months as they'll be very careful with one of their most prized arms, which is suffering from elbow discomfort right now.
The Rangers put long reliever, and former starter, Scott Feldman into Feliz's spot on Wednesday, and he struggled, walking five batters and giving up a big grand slam in a loss to the Seattle Mariners. Feldman is very good in his relief role, so it would make sense to bring in Oswalt but he won't be ready for at the very least two weeks, most likely a month.
If Oswalt comes, that likely pushes Feliz out of a rotation spot as Yu Darvish, Colby Lewis, Derek Holland and Matt Harrison are not going to lose their spots, but Feliz was pitching pretty well this year in his first year as a big-league starter after winning AL Rookie of the Year honors in 2010 as the team's closer. In fact, he had a 3-1 record and a 3.16 ERA after his first seven starts this year, which is far from shabby.
But if Oswalt signs, it will push Feliz to the bullpen when he returns, where the Rangers' front office swore he would never be again. It's been mentioned that Feliz has a somewhat delicate psyche, especially after blowing the World Series last season, so who knows what jerking him back to the bullpen would do.
And if he moved to the bullpen, where would he slot? Joe Nathan is having a great stretch as the team's closer. Mike Adams has been stellar in his set-up role. Alexi Ogando, who converted back to the bullpen after being an all-star starting pitcher last season, has been phenomenal in a seventh/eighth/wherever you need him role. Then there's Koji Uehara, who has resurrected his Rangers career after halting at least one known trade attempt the Rangers made for him this off-season. Feliz would enter the bullpen as nothing more than a fifth reliever, which is not what you want to do with someone of his talent and potential.
Sure, there's always the possibility another starter goes down to injury. The Rangers have had more than their fair share of luck with health as they didn't have a single starting pitcher go on the DL last season. Oswalt would be a nice insurance policy, but would signing him be worth all the clustering it would cause on the Rangers' pitching staff? We'll know sooner, rather than later as the Rangers want to get something done with him soon, one way or another.
Copyright FREEL - NBC Local Media