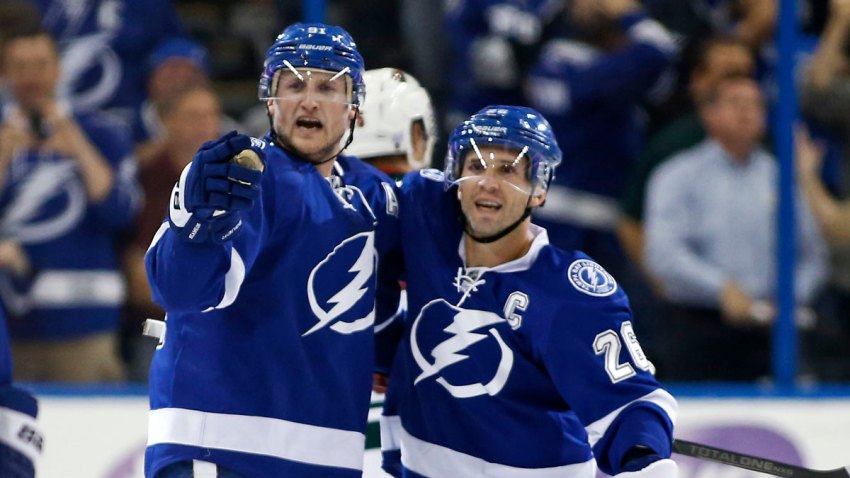 Steven Stamkos is human after all.
The Tampa Bay Lightning superstar broke his tibia back in November, but all signs pointed to him making a miraculous comeback in time to suit up in Sochi for Team Canada when men's hockey starts next week.
Heck, he was already skating a little over a month after cracking his leg after sliding full speed into a goal post and having subsequent surgery to add a titanium rod into his leg. No one doubted that if Stamkos put his mind to making a complete recover in less than three months, he'd find a way to do it.
Sports Connection
Connecting you to your favorite North Texas sports teams as well as sports news around the globe.
But while Stamkos's mind was willing to believe he was healed, his body really wasn't, according to Tampa Bay's medical staff, which made the decision Wednesday to not allow him back in a game for at least another two or three weeks.
Bolts GM Steve Yzerman, who also happens to be GM of Team Canada, made the announcement, which put a damper on Canada's gold medal dreams.
"After reviewing the CT scan this afternoon, Dr. (Ira) Gutentag made it clear to me and to Steven that the tibia is not completely healed and therefore he should not be participating in game action at any time in the near future," Yzerman said in a release. "Although the doctor was very pleased to this point with the healing process, he explained that the callus surrounding the fracture site is not 100 percent consolidated, and Steven will not be cleared to play in a game until that happens. It was a pretty clear cut decision, no gray areas at all."
Stamkos, obviously, said he was very disappointed in the doctor's orders.
"I honestly believe that we did everything possible in order to have my injured leg ready in time for the Olympics, but I realize you can't force healing," he said in a statement. "I know, in the best interest of my long term health, I cannot represent Canada in Sochi, as much as I would like to. I would like to thank the training staff for their dedication and hard work and I look forward to returning to the Lightning once cleared by the medical team."
Stamkos's absence means there's a huge opening on Team Canada's roster. Fortunately for Yzerman, there's no lack of quality players available to fill it.
Plenty of deserving names will be mentioned -- Claude Giroux of the Flyers, James Neal of the Penguins and Eric Staal of the Hurricanes are three of the first that come to mind. But Yzerman really needs only to look in his own Lightning locker room to find the right player.
That would be Martin St. Louis -- Stamkos's longtime teammate and Olympic veteran. Many thought he should have been on the roster from the start, and it was certainly a shock to St. Louis that he wasn't. But instead of complaining, he went out and scored eight goals and 16 points in the next 14 games post-roster announcement.
After it was revealed that Stamkos wouldn't be able to play, St. Louis received some support from the Twitterverse, including Edmonton's David Perron.
A lof of great players could replace Stamkos for Team Canada, but I really hope Martin St-Louis gets the call! #sochi — David Perron (@DP_57) February 5, 2014
If Yzerman doesn't replace Stamkos with St. Louis, his relationship with the team's long-time star winger will take another hit. Pass over your star winger once, and amends can still be made. Pass over him twice and, well, things may not be so civil the second time around.
It's a hard decision for Yzerman, no doubt about it. But if your entire Olympic run depends on the 26th roster spot, well, you've got more issues with your team than that.
St. Louis is the logical selection. He's also the sentimental pick. And in the end Yzerman should "make it right," as a certain Canadian home inspector would say, and choose one of his own.