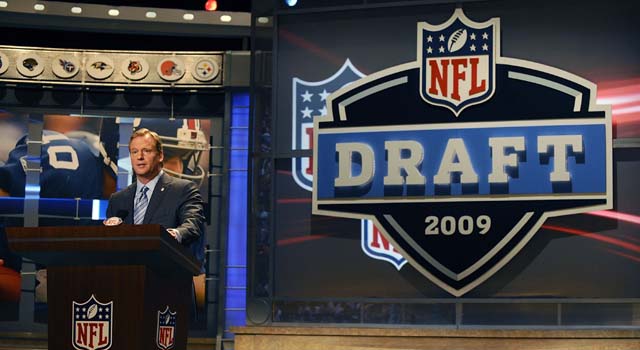 Last year, I didn't bother to make a mock draft.
I was so disgusted the Cowboys didn't have a 1st round pick after Jerry Jones got hustled by the Detroit Lions in that Roy Williams trade.
Well, the good folks at NBCDFW.com wanted me to give you a mock draft and since the Cowboys have a 1st round pick at No. 27, I was glad to put together a board.
This year is the 75th anniversary of the NFL Draft. The first draft was held Feb. 8-9, 1936, in the Philadelphia hotel room of Bert Bell. Most fans know Bell as the
NFL
commissioner before Pete Rozelle.
Here you go and please feel free to discuss.
1. St. Louis Rams Sam Bradford QB Oklahoma
The Rams are regretting their choice to stick it out with Marc Bulger. They cut him in the offseason and after passing on Matt Ryan (Atlanta), Joe Flaaco (Ravens) Mark Sanchez (Jets) they simply can't pass on the former Heisman winner Bradford. Forget that trade down to Cleveland rumor. The Rams take Bradford.
2. Detroit Lions Ndamukong Suh DT Nebraska
I thought the kid should have won the Heisman Trophy last year. The Lions get a break and get the best player on the board in my opinion.
3. Tampa Bay Buccaneers Gerald McCoy DT Oklahoma
Head Coach Raheem Morris wants to get back to the old Tampa 2 style of play. That means finding a interior player with the skills to push the pocket like Warren Sapp did in the glory days. McCoy is the pick here.
The Big 12 keeps rolling with the top four selections in the draft. With Chris Samuels no longer manning the left tackle, Washington has no choice but to take the best available player to protect Donovan McNabb. The Redskins offensive line play was terrible last year. Mike Shannahan took Ryan Clady to protect Jay Cutler in Denver and he's been a great player so I'll pencil in Okung.
I've been reading how KC GM Scott Pioli is not big on drafting safeties high. I can see that, but Berry has the ability to cover like a corner and that makes his value higher. I knew Pioli as an advanced scout in Cleveland and he's smart and keeps information close to the vest. Berry was coached by former Super Bowl coordinator Monte Kiffin so he's NFL ready. If we see a trade down...KC is the team to make the move.
6. Seattle Seahawks Trent Williams OT Oklahoma
They need a running back because Julius Jones isn't the answer. They need a left tackle because Walter Jones is gone. Armed with the 6th and 14th overall picks which one do you take first if you are head coach Pete Carroll? I say you take the next best offensive tackle on the board to protect your QB Matt Hasslebeck.

7. Cleveland Browns Sergio Kindle OLB Texas
The Browns need some defensive help. They need a franchise QB. The Browns top sack leader Kamerion Wimbley was traded to Oakland. You need linebackers and pressure to make the 3-4 defense work so I'm going to give them Sergio Kindle.
8. Oakland Raiders Anthony Davis OT Rutgers
The Raiders offensive line play is not up to snuff. Davis is the choice.
9. Buffalo Bills Jimmy Clausen QB Notre Dame
The Bills franchise turned around in the 90's when Jim Kelly came to Western New York.
They had no direction. They need a face to sell to the fans and Clausen is the guy.
10. Jacksonville Jaguars S Earl Thomas Texas
In a division with Peyton Manning and Matt Schaub making the Pro Bowl, the Jags need to get a safety to ballhawk and replace the former first round Florida Gator gone bust Reggie Nelson. Earl Thomas of Texas makes picks and has corner ability.
11. Denver Broncos LB Ronaldo McClain Alabama
He made too many plays for the national champion Alabama Crimson Tide for Denver to pass up. Imagine a better Demeco Ryans. McClain helps bring a winning attitude.
12. Miami Dolphins DE Derrick Morgan Georgia Tech
Morgan is a big player (6-3 266 lbs) and Bill Parcells loves size. Morgan had 12 and half sacks. With Joey Porter and Jason Taylor gone they lost16 sacks.
13. San Francisco 49ers OT Bryan Bulaga Iowa
The 49ers must make protection a priority. They gave up 40 sacks in 2009. Bulaga solves the issue.
14. Seattle Seahawks RB C.J. Spiller Clemson
Spiller helps a team that couldn't run for squat with Julius Jones leading the attack in 2009. Spiller is a return guy and gives Carroll versatility.
15. N.Y. Giants LB Sean Witherspoon Missouri
Not the best player on the board, but the G-Men need a middle linebacker. Big Will had over 400 tackles in college and can go sideline to sideline.
16. Tennessee Titans CB Joe Haden Florida
Owner Bud Adams flips the bird at the 49ers for passing on the top corner in the draft. Ha den made plays at Florida and he'll make 'em in Tennessee in a division with QB's like Manning and Schaub.
17. San Francisco 49ers CB Kyle Wilson Boise State
Here comes the run on corners. Wilson helps you in the run game as well as his above average cover skills. Never missed a game in college. Durarability is a must in the NFL. BSU kids can play in the league, just look at the solid play of Boise alum, Orlando Scandrick, of the Cowboys who was a 5th rounder.
18. Pittsburgh Steelers G Mike Iupati Idaho
Breaks my heart Iupati won't be a Dallas Cowboy but the Steelers take the best guard on the board who could become the next Alan Faneca.
The Falcons could use Markice Pouncey the center/guard out of Florida, but I say they will go defense with push rusher, even if Paul doesn't have has much experience as you'd like in a first rounder.
20. Houston Texans RB Ryan Matthews Fresno State
You need offense to win the AFC South. Houston will have to find corner help later, but Matthews is a true need. The NCAA rusher leader won't get past the Texans.
21. Cincinnati Bengals TE Jermaine Gresham Oklahoma
The Bengals signed WR Antonio Bryant to go on the other side of receiver Chad Oceanic. They still need another weapon for quarterback Carson Palmer and Gresham is the best tight end on the board. The Bengals reportedly offered the Cowboys a 2nd round pick for Martelle's Bennett but turned it down.
22. New England Patriots DL Jared Odrick Penn State
The Pats got too cute when they traded Richard Seymour to the Oakland Raiders. Odrick helps a defense that was depleted once Seymour headed West.
23. Green Bay Packers OT Charles Brown USC
I can't get out of my head how much Pro Bowl QB Aaron Rogers was sacked in 2009. Brown is better in pass protection so he gets the nod to help keep the Pack's passing game rolling.
24. Philadelphia Eagles S Taylor Mays USC
They'd like to get Eric Berry or Earl Thomas and don't be surprised if they don't go make a trade up with the extra draft picks they own. Plenty of teams would like to move down. If not I can see Mays wearing Eagle green.
25. Baltimore Ravens WR Dez Bryant Oklahoma State
The best GM in the NFL, Ozzie Newsome, gets a player with top ten talent at 25. Look for Ray Lewis to help mentor and bring Bryant along.
26. Arizona Cardinals NT Dan Williams Tennessee
Williams is going much higher on other mock draft boards to teams like Miami and Buffalo. Call me nuts but I have Williams falling to the Cardinals and they can't pass on the value at this point.
27. Dallas Cowboys C/G Maurkice Pouncey Florida
King of the trade down, Jerry Jones, stays put and takes a player that will help him for a decade to come. The Cowboys offensive line is aging. Some want to plug in a left tackle at this pick but the rest on the board don't merit a first round grade.
Plan B: corner Devin McCourty of Rutgers. Terence Newman gets hurt every year.
Plan C: safety Nate Allen of South Florida. Former teammate of Pro Bowler Mike Jenkins would fit a need.
28. San Diego Chargers CB Kareem Jackson Alabama
I'd say the need is a nose tackle but look for A.J. Smith to take care of that later in the draft. Since shipping Antonio Cromartie to the Jets Jackson seems to help fill a need at the corner spot behind Quentin Jammer and Antoine Cason.
29. New York Jets S Nate Allen South Florida
Rex Ryan takes care of his outstanding defense as they try and make a Super Bowl run.
30. Minnesota Vikings OT Roger Saffold Indiana
The Vikings may not be able to keep on dealing with left tackle Byrant McKinnie's off the field issues. Saffold gives them a player to groom in case McKinnie slips up...again.
31. Indianapolis Colts LB Jerry Hughes TCU
Speed rusher who racked up big time sacks for the Horned Frogs helps the Colts bring more pressure.
32. New Orleans Saints DE Brandon Graham Michigan
Who DAT gonna get a Big Ten MVP to add to the defense? New Orleans.