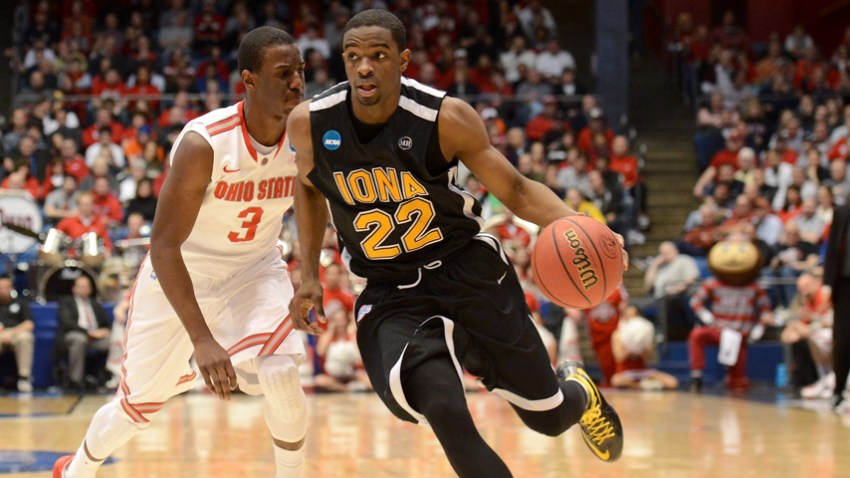 EAST REGIONAL
INDIANA 83, JAMES MADISON 62
Sports Connection
Connecting you to your favorite North Texas sports teams as well as sports news around the globe.
DAYTON, Ohio (AP) — Freshman Yogi Ferrell scored 14 points in the first six minutes as top-seeded Indiana slam dunked its way past James Madison.
Not taking any chances with a No. 16 seed, the Hoosiers (28-6) started fast and built a 33-point lead in the second half over the Dukes (21-15) and opened the tourney with a statement they intend to be around for a while.
Looking every bit like a team capable of cutting down the nets in Atlanta next month, Indiana will play Temple in the second round on Sunday.
Ferrell finished with 16 points, eight rebounds and six assists, and Cody Zeller had four dunks for Indiana.
Freshman Andre Nation led James Madison with 24 points.
TEMPLE 76, NORTH CAROLINA STATE 72
DAYTON, Ohio (AP) — Khalif Wyatt scored 31 points, finishing the game with an injured left thumb that had him grimacing before his clinching free throws, and Temple broke with its one-and-done NCAA tournament trend.
The ninth-seeded Owls (24-9) opened a 17-point lead before Wyatt — the Atlantic 10's player of the year and top scorer — hurt his left thumb and left the game briefly, returning with black tape on the non-shooting hand.
Every shot was an adventure, but he made enough — including six painful but perfect free throws in the final 32 seconds — to keep Temple around for more than one game. The Owls had lost their opener in four of their last five NCAA trips.
No. 8 NC State (24-11) trailed most of the game and came up short of a deep tournament run on the 30th anniversary of its national title.
Richard Howell had 14 points and 15 rebounds for NC State.
MIAMI 78, PACIFIC 49
AUSTIN, Texas (AP) — Durand Scott had 21 points and Miami had a triumphant return to the NCAA tournament.
The Hurricanes (28-6), who may be even better than their No. 2 seed in the East Regional would indicate, put the game out of reach with a 14-0 run midway through the first half of their first NCAA tourney game in five years.
Pacific (22-13), the California team that played its last game for retiring longtime coach Bob Thomason, was no match for the Atlantic Coast Conference's regular season and tournament champions.
Miami plays Illinois on Sunday.
ILLINOIS 57, COLORADO 49
AUSTIN, Texas (AP) — Brandon Paul and D.J. Richardson made consecutive 3-pointers to give Illinois back the lead with 6 minutes left and the seventh-seeded Illini pulled out a tough win over Colorado.
Illinois led by 16 at halftime only to watch Colorado rip off a 21-2 run in the second to grab the lead. The Illini looked desperate until Paul and Richardson coolly knocked down their shots to put Illinois ahead 48-44.
Four free throws by Paul eventually put the game away for the Illini (23-12).
Paul led Illinois with 17 points.
Askia Booker scored 14 points for Colorado (21-12).
___
MIDWEST REGIONAL
DUKE 73, ALBANY 61
PHILADELPHIA (AP) — Seth Curry scored 26 points, Mason Plumlee had 23 and second-seeded Duke beat Albany.
The Blue Devils (28-5) will meet seventh-seeded Creighton in the third round Sunday.
Duke shot 58.7 percent (27 of 46), just off its season-beat 60.8 percent against Florida State.
The Blue Devils, who lost 75-70 to 15th-seeded Lehigh in the second round last year, never really pulled away from the Great Danes (24-11), who got as close as eight points with 4:40 to play.
Duke coach Mike Krzyzewski extended his all-time lead with his 80th career victory in the tournament that he has won four times.
Jacob Iati had 15 points for Albany, which was making its third NCAA appearance, all since 2006.
CREIGHTON 67, CINCINNATI 63
PHILADELPHIA (AP) — Doug McDermott had 27 points and 11 rebounds, and Gregory Echenique scored 13 points to help Creighton hold on.
Ethan Wragge added 12 for the Bluejays, who won their NCAA tournament opener for the second straight year.
McDermott, the two-time Missouri Valley Conference player of the year and 2012 All-American, made all 11 free throws to help the seventh-seeded Bluejays (28-7) move on to play Duke on Sunday.
Sean Kilpatrick's driving layup after Cincinnati had the arrow on a jump ball cut it to 64-63 with 17 seconds left.
Austin Chatman sank two free throws for Creighton. Kilpatrick's attempt at a tying 3 rimmed out, and the Bearcats were whistled for traveling after grabbing the rebound.
Kilpatrick scored 19 points, and Cashmere Wright had 15 for the 10th-seeded Bearcats (22-12) in their camouflage-patterned shorts.
___
WEST REGIONAL
MISSISSIPPI 57, WISCONSIN 46
KANSAS CITY, Mo. (AP) — Marshall Henderson shook out of a shooting slump and scored 17 points in the second half, giving the Rebels their first NCAA tournament win since 2002.
For the cold-shooting Badgers (23-12), the upset loss snaps a string of six straight first-game victories. Ole Miss (27-8) trailed 25-22 at halftime and Henderson, who led the Southeastern Conference with 20 points a game, had only two points on 1-for-11 shooting.
But the flamboyant and outspoken guard found his touch just in time for Ole Miss, and wound up hitting 6 of 21. His back-to-back 3-pointers tied it 36-36 and his layup and two free throws in the final minute sealed the win.
Reginald Buckner had nine points and 12 rebounds. Sam Dekkar had 14 points for Wisconsin.
The Rebels will play No. 13 La Salle on Sunday.
LA SALLE 63, KANSAS STATE 61
KANSAS CITY, Mo. (AP) — Jerrell Wright made three foul shots in the final 30 seconds, and No. 13 seed La Salle advanced after blowing an 18-point halftime lead to beat fourth-seeded Kansas State.
Wright, who scored a game-high 21 points for the Explorers (22-9), made the first two free throws to give La Salle a 62-61 lead. Kansas State's Jordan Henriquez missed in the paint at the other end, and Wright made the first of two more free throws with 9.6 seconds to go.
The Wildcats (27-8) raced down court, but point guard Angel Rodriguez got hung up in the corner by the Kansas State bench, and his off-balance shot over the corner of the backboard missed everything as the final buzzer sounded and the Explorers leaped off their bench to celebrate the upset.
Henriquez and Shane Southwell scored 17 points each for Kansas State.
OHIO STATE 95, IONA 70
DAYTON, Ohio (AP) — Sam Thompson had career highs with 20 points and 10 rebounds, part of a dominating performance by Ohio State's front line against Iona.
The second-seeded Buckeyes (27-7) have won nine straight, including their last five games of the regular season and a run to the Big Ten tournament title.
Deshaun Thomas had 24 points as the Buckeyes' fast breaks led to dunks and a season high in points, thrilling the large Ohio State contingent in Dayton.
Aaron Craft had a season-high six steals and seven assists for the Buckeyes. Shannon Scott tied his career high with 10 assists.
Ohio State plays Iowa State on Sunday, one win away from a fourth straight trip to the round of 16.
Iona (20-14) returned to the court where it suffered the biggest meltdown in NCAA tournament history last year, blowing a 25-point lead against BYU.
Tavon Sledge scored 20 points for Iona, which had 19 turnovers that led to 29 of the Buckeyes' points.
IOWA STATE 76, NOTRE DAME 58
DAYTON, Ohio (AP) — Freshman Georges Niang matched a season high with 19 points and Iowa State, showing it can do much more than just fire away from outside the 3-point line, dismantled Notre Dame.
The 10th-seeded Cyclones (23-11) led the nation in 3-pointers this season, but the Cyclones were just as effective from short range in ousting the Fighting Irish (25-10), who played their final game as a member of the Big East and will join the Atlantic Coast Conference next season.
Melvin Ejim added 17 points for Iowa State, which shot better than 70 percent for much of the second half.
Tom Knight scored 14 to lead the Fighting Irish.
Copyright AP - Associated Press