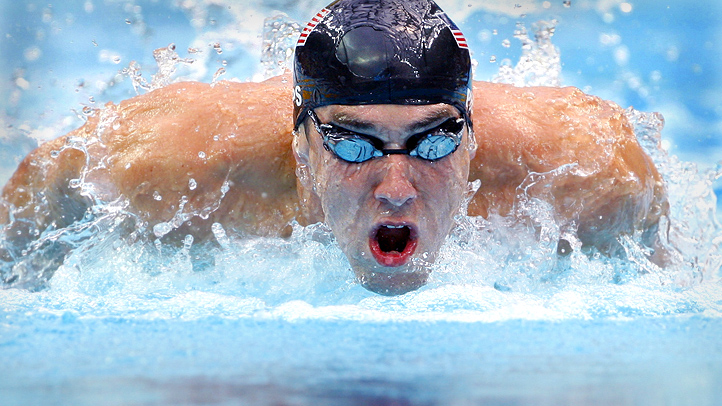 Michael Phelps knows what's on his schedule this summer.

Just don't ask him to share it.

"Can I ask a question? Why is it such a big deal what I'm swimming?" Phelps said Sunday. "You guys ask me every time."

Yes, four years after winning a record eight gold medals in Beijing, Phelps remains the indisputable star of the U.S. Olympic team. His lone availability at the USOC's media summit drew a full house, with reporters eager to know everything from what he plans on swimming at the London Olympics to whether he's climbed the famed "Incline," a training trail at the base of the mountains near Colorado Springs, Colo.

No wonder he and coach Bob Bowman are determined to keep a few things to themselves.

"If we say what he's going to swim and he changes it, then we have to have another one of these to explain why," Bowman said. "The other part of it is I don't know that we need to give the competition any more ammunition than they already have."

The Olympic trials are June 25 to July 2 in Omaha, Neb.

Phelps' appearance at the media summit came the day after he finished second in the 200-meter butterfly at the Charlotte Grand Prix. He also finished second in the 200 freestyle in Charlotte, and has raced the 100 free, 100 butterfly, 200 backstroke, 200 individual medley and 400 IM at previous Grand Prixs this year.

In Beijing, Phelps won gold medals in the 100 fly, 200 fly, 200 free, 200 IM and 400 IM, as well as three relays.

"I have goals that I want to accomplish. I know it won't be eight (gold) medals again," he said. "If you want to compare me to that, that's your decision, not mine. I'm going out to accomplish the things I have in my mind and my heart."

While Phelps' pursuit of Mark Spitz's record of seven gold medals in a single games dominated the lead-up to Beijing, it's his rivalry with fellow American Ryan Lochte that's causing a buzz ahead of London. Lochte beat Phelps in both the 200 free and the 200 IM at last year's world championships, losses that Phelps admitted Sunday helped him find motivation in the pool again.

But the closer the Olympics get, the more Phelps turns his focus inward.

"Clearly, whenever you have two athletes of that caliber, it creates interest," Bowman said. "Honestly, I don't know the rivalry does anything for Michael because his main competition is himself. I think he's spurred on by having people to race, I think he likes that. But I think his primary measure of success is, did he hit the time he wanted to hit."

With 16 medals overall, Phelps is two shy of the Olympic record set by Soviet gymnast Larysa Latynina from 1956 to 1964. Phelps recently had the opportunity to meet Latynina, and the two spent a few hours together, talking and joking. Latynina also gave him a medal she'd won at a meet with the United States in the 1950s.

"Really cool," he said. "Probably one of the coolest things I've received thus far."

Phelps has said repeatedly — and did so again Sunday — that he is finished after London. He told Bowman long ago that he didn't want to be swimming past 30, and he would be 31 at the 2016 Olympics in Rio de Janeiro.

But provided he stays healthy, Phelps is all but assured of breaking Latynina's medal record in London, etching his name even deeper in Olympic history.

"Records are always made to be broken," he said. "I think it's kind of cool there's a possibility to rewrite history or be up there with some of the greats in Olympic history."

Copyright AP - Associated Press