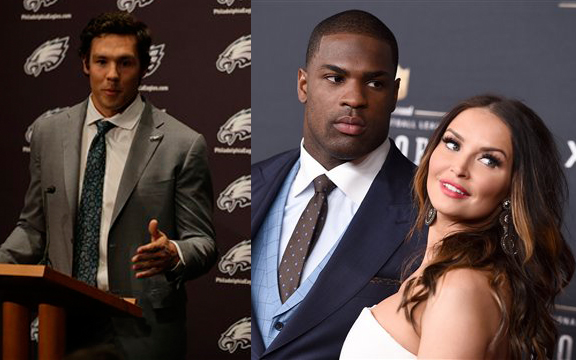 No, I'm not going to burn my DeMarco Murray jersey -- but it's only because I don't own one.
Honestly, I don't blame him for going to Philadelphia. It's makes sound financial sense. The Cowboys offered him a contract that averaged $6 million per season and the Eagles countered with one worth more than $8 million.
My math ain't great, but over the life of a five-year contract that's about $10 million. It's not the first time a DFW team has made a decent offer to a star, only to be blown away by a team in Philly. Right, Cliff Lee?
Sports Connection
Connecting you to your favorite North Texas sports teams as well as sports news around the globe.
As physically demanding as the NFL is and with our knowledge about the dangers of concussions, no one in their right mind is faulting Murray for jumping at more financial security for him, his children and his children's children.
My problem is with Murray's press conference in Philly. The one where lied. And insulted you and his former team.
"It wasn't about financial security or anything like that," Murray said. "I think the Eagles have a great chance to win a Super Bowl."
What. The. What?!
The Eagles have a great chance, based on what exactly DeMarco? And, in your estimation, you didn't have a better chance at winning in Super Bowl in Dallas?
It's a slap in the face. It's disingenuous. And it's down right wrong.
In his heart of hearts, Murray would rather have Sam Bradford over Tony Romo? Riley Cooper over Dez Bryant? Brent Celek over Jason Witten? The Eagles' offensive line over the Cowboys' offensive line?
No, no, no and no. And, oh by the way in case he wasn't paying attention, the Cowboys won the NFC East and a playoff game last season, and came within a controversial replay overturn from advancing to the NFC Championship.
To say the Eagles have a better chance at the Super Bowl next season is preposterous. As is the case many times in free agency, it is about the money.
Because he wasn't man enough to admit it, Cowboys fans have every right to be mad at a running back who is now squarely and fairly … the enemy.
A native Texan who was born in Duncanville and graduated from UT-Arlington, Richie Whitt has been a mainstay in the Metroplex media since 1986. He's held prominent roles on all media platforms including newspaper (Fort Worth Star-Telegram, Dallas Observer), radio (105.3 The Fan) and TV (co-host on TXA 21 and numerous guest appearances, including NBC 5). He currently lives in McKinney with his wife, Sybil, and two very spoiled dogs.
Copyright FREEL - NBC Local Media