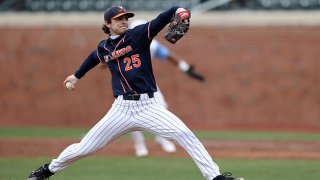 Griff McGarry struck out a season-high 10 in seven innings and Virginia beat Dallas Baptist 4-0 in Game 2 of the Columbia Super Regional on Sunday.
The Cavaliers (34-25) improved to 5-0 this year in NCAA Tournament elimination games and forced a decisive Game 3 with the Patriots (41-17) on Monday for a trip to the College World Series.
Zack Gelof gave Virginia a 1-0 lead with a line drive home run off Dallas Baptist starter Rhett Kouba (6-2) to lead off the eighth inning. Alex Tappen followed with a two-out three-run homer off reliever Kragen Kechely.
The Patriots' Andrew Benefield broke up McGarry's no-hit bid with a lead-off double in the seventh. Virginia catcher Logan Michaels picked off Benefield at second after Ryan Wrobleski showed bunt. Wrobleski hit a single, advanced to second on a fielding error and stole third on pitch in the dirt, but McGarry closed out the inning with back-to-back strikeouts.
McGarry walked George Specht to lead off the eighth and left the game after taking a moment in the dugout to see if he could do something about bleeding on the ring finger of his pitching hand. Brandon Neeck (2-0) finished the inning to pick up the win and Kyle Whitten pitched the ninth for his second save of the season.
Click here to listen to the newest episode of Big Game Friday Morning.
Copyright AP - Associated Press