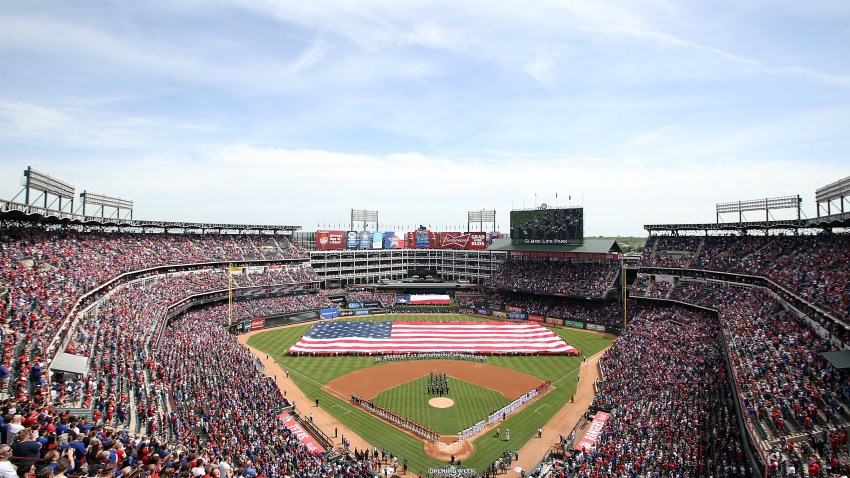 This is going to be tricky. Some might even call it blasphemous.
But as we prepare for another Rangers' season today in Arlington, it occurs to me how much we overrate baseball's Opening Day.
This comes from a guy who still doesn't understand how 101,000 people willingly pay real money to watch fake wrestling, so read at your own risk.
Sports Connection
Connecting you to your favorite North Texas sports teams as well as sports news around the globe.
No, I'm not a Communist, but as I viewed the local TV sports shows Sunday night I was miffed at how they each started not with the playoff-implication results of the Mavericks' 77th game of the season, but instead a preview of the Rangers' Game No. 1. One of 161 just like it to follow, that is.
I've been a Rangers' fan since I attended their first game at old Arlington Stadium in 1972 and I had my heart ripped out in the bowels of Busch Stadium watching the champagne removed from their clubhouse in blowing Game 6 of the 2011 World Series. But I'm also realistic enough to know that the real excitement in sports – in life – isn't about the foreplay, the appetizer or the concert's opening song. It's about the finales, climaxes and the encores.
When Cole Hamels throws the first pitch Monday against the Mariners I'll be glued to the TV. There'll be adrenalin and goose bumps and … then, thousands of more pitches to come over the next six months. As we were painfully reminded last season, it's not what you do you in April that matters, it's how you hit, throw and catch – or, um, drop – come October that defines a season.
The Cowboys' Week 1 opener represents 6.25 percent of their 16-game schedule. The first game for the Stars and Mavs will impact 1.2 percent of their regular-season record. The pomp-and-circumstance and flyovers and ceremonial first pitches for the Rangers? That's right, only a minuscule 0.61 percent of their 2016 will actually be decided today.
Opening Day is crucial, huh? Then, quick, tell me about the Rangers' opener a year ago.
Riiiiiight. Their starter was Yovani Gallardo. In center field was Leonys Martin, flanked by Ryan Rua in left. Texas was drubbed by the A's in Oakland, 8-0. Six months later neither Martin nor Rua were on the roster, Gallardo was behind Hamels in the rotation, the Rangers were AL West champs and the A's – after that supposedly precious, momentum-making Opening Day victory – went 67-94 the rest of the season and floundered as the 4th-worst team in baseball.
Opening Day is important? The Rangers have won six divisional titles. In the first games of those seasons they've gone 3-3. Rather win today than lose? Sure. But overreact to the result or the lineup or the … anything really? Nope. Today's game will barely affect the standings, and will likely only provide a glimpse of what this season and team will look like by the time we're figuring out our Halloween costumes.
Look, I'm happy that baseball's back. I'm just also convinced that in no way should the least important opening game of any American sports league be considered a national holiday.
So "Play Ball!" indeed. Just keep it in perspective.
A native Texan who was born in Duncanville and graduated from UT-Arlington, Richie Whitt has been a mainstay in the Metroplex media since 1986. He's held prominent roles on all media platforms including newspaper (Fort Worth Star-Telegram, Dallas Observer), radio (105.3 The Fan) and TV (co-host on TXA 21 and numerous guest appearances, including NBC 5). He lives in McKinney with his wife, Sybil, and two very spoiled dogs.
Copyright FREEL - NBC Local Media