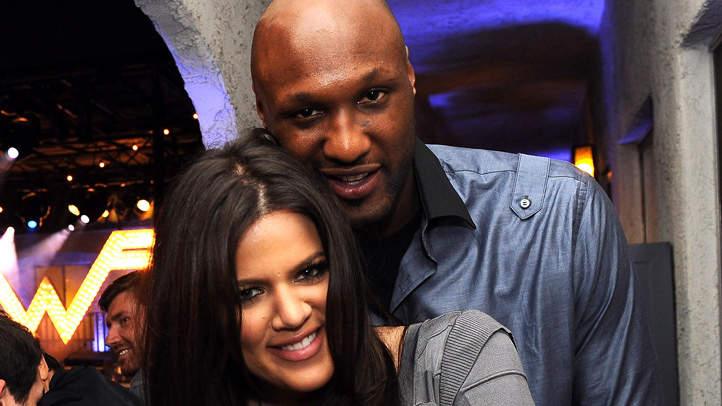 Because the roughly 325 Kardashian family reality shows on E! were not enough...
We bring you "Khloe & Lamar." The Lakers star and his Kardashian wife of the last year and a half now have their own reality show, which debuts Sunday on E!.
You know you want to watch the opening credits. Admit it. It's right at the bottom of this story, go and enjoy. Then you'll probably feel dirty and need to take a shower, but watch it anyway. What we learn from the opening sequence is this show is clearly going to be heavily scripted. How do we know? Odom spins to his right in the credits. Odom never goes right. Ever. Someone had to write that for him. And it probably took five takes.
Sports Connection
Connecting you to your favorite North Texas sports teams as well as sports news around the globe.
For Lakers fans, who just watched their team lose to the rather sad Jazz and Warriors on consecutive nights, the show can be a bit of a touchstone. Is Lamar's extra curricular work -- which brings more cameras around the Lakers for practices and after games -- good for the team?
Relax, Lakers fans. If the Lakers lose in the playoffs, "Khloe & Lamar" will not be the cause.
They started filming this around the All-Star Game and the reality show cameras started showing up at Lakers practices and games after that. What happened? The Lakers went on a 17-2 run. They played the best defense of the season. They didn't miss a beat. The last two losses were more about the usual complacent Lakers than reality shows.
Not everyone can play in Los Angeles or New York (or Miami now). There is a much greater concentration of media, many more cameras, a higher level of dissection of everything that goes on around the team. Some guys shy from that spotlight and can't adjust; their game suffers.
Odom is not that guy. He is having the best season of his career -- he is going to win Sixth Man of the Year -- all while married to a Kardashian. Sure, cameras follow him home, are in his house nearly 24/7, track him if he tries to go buy a latte at Pete's. So what? That's what has pretty much been going on in his life for the past couple of years. Odom enjoys it in a way few players can.
And you don't think Kobe gives a crap so long as Odom performs, do you? More cameras are just more chances for Ron Artest to do things Ron Artest-like. Nobody else notices.
So sit back and enjoy "Khloe & Lamar." Or, don't watch it -- but you know you're going to sneak a peak. Admit it.
Kurt Helin lives in Long Beach and is the Blogger-in-Chief of NBC's NBA blog Pro Basketball Talk (which you can also follow in twitter).
Copyright FREEL - NBC Local Media