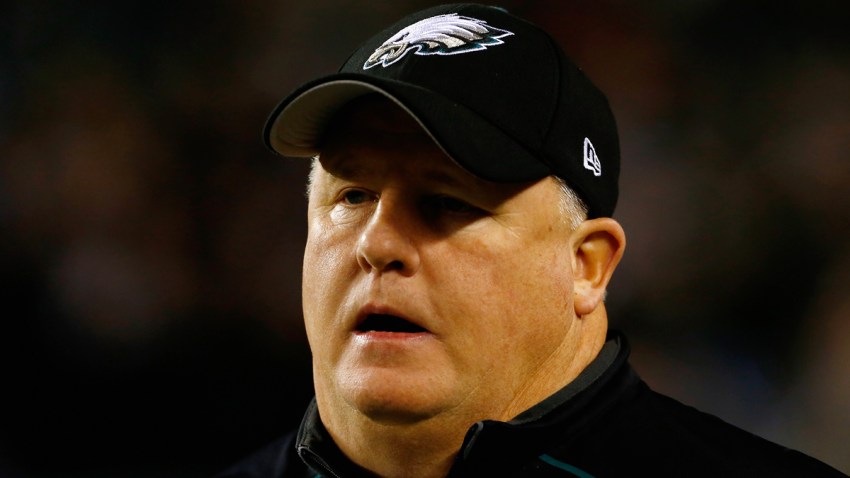 In the wake of the Eagles' shocking firing of Chip Kelly Tuesday afternoon, my social media was flooded with some form of this irrational sentiment:
Yet Jason Garrett still has a job with the Cowboys. Just shows you how dumb Jerry Jones is!
Which clearly is spot on because, well, doesn't every team want to replicate Philadelphia's pristine organization? I mean, after all, the Cowboys haven't won a Super Bowl in 20 years … and they still have five more than the Eagles.
Sports Connection
Connecting you to your favorite North Texas sports teams as well as sports news around the globe.
I remember fearing Kelly's arrival to the NFL, and in particular to the NFC East. In his debut game in 2013 it was astounding, almost revolutionary. The Eagles were taking only :15 between offensive snaps and they were armed with breathtaking speed and talent all over the field. Michael Vick at quarterback, LeSean McCoy in the backfield and receivers Jeremy Maclin and DeSean Jackson.
They were fast. They were fearless. And they had a cocky new coach who wasn't afraid to color outside the NFL's copycat lines.
That year the Eagles went 10-6 and won the division. But something happened to Kelly on the way to becoming Tom Landry. He was devoured by his own ego.
Handed full control of the team's personnel, he ran off McCoy, benched Vick and cut loose Jackson and Maclin. He signed the Cowboys' DeMarco Murray in probably the worst free-agent signing in Philly history, and handed the reins of his up-tempo offense to a immobile quarterback coming off two knee surgeries in Sam Bradford.
Off to such a fast start in his first year, Kelly didn't keep his job through a third year. In the end he was 26-21 with a division title, but not a single playoff win. Which, to some Cowboys fans, means Jones should pull the trigger on Garrett as well.
Nonsense.
I wrote a couple weeks ago that Garrett shouldn't be fired.
To further my case, if the historically inept Eagles are being impatient then the right path clearly is being patient. The Cowboys have taken a drastic step back from 12-4 to 4-11. It was a bad year. But it doesn't mean Garrett is a bad coach. And just because he is a .500 coach doesn't mean he isn't the man for the job long-term.
Bill Belichick is the gold standard of NFL coaches, right? Look at his early coaching career.
Ending his 5th full season with the Cowboys, Garrett is 40-39 with one division championship and one playoff win. In Belichick's first six years he was 41-55, with one winning season and only one playoff win. The Patriots stuck with their good coach through hard times, and now Belichick has four Super Bowls and no losing seasons since 2000.
Sean Payton in New Orleans went 25-23 without a playoff win his first three seasons. Pete Carroll was 47-49 with two playoff wins in his first six seasons, spanning the Jets, Patriots and Seahawks.
Not that Garrett is destined to win multiple Super Bowls, but he hasn't detoured this franchise into the ditch like Kelly in Philly. And, remember, history suggests that with head coaches patience often pays off.
A native Texan who was born in Duncanville and graduated from UT-Arlington, Richie Whitt has been a mainstay in the Metroplex media since 1986. He's held prominent roles on all media platforms including newspaper (Fort Worth Star-Telegram, Dallas Observer), radio (105.3 The Fan) and TV (co-host on TXA 21 and numerous guest appearances, including NBC 5). He lives in McKinney with his wife, Sybil, and two very spoiled dogs.
Copyright FREEL - NBC Local Media