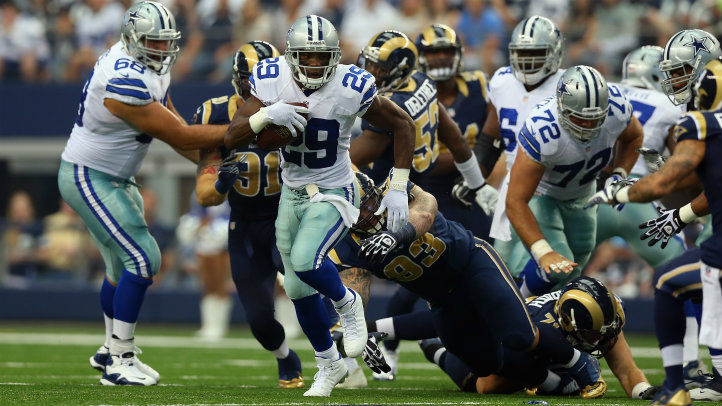 Dallas Cowboys owner and general manager Jerry Jones liked the idea of the team practicing against the Rams in training camp in part because of the Rams' history in Los Angeles, Jones said last week. He didn't say as much about the Rams' possible future in the area, as rumors abound involving the team moving to LA in the near future.

In any case, when the Rams visit the Cowboys in Oxnard, CA, they'll be just about an hour north of their old, and potentially new, home.

"With the initial focus groups and the initial look-sees, the Rams are a very popular team in Southern California," Jones said, per the Dallas Morning News. "And so one of the reasons that it was attractive to us to work against them is because they have that good flavor. It is certainly not a reach at all to say that fans remember the Los Angeles Rams, and that is not a reach. So that makes them a good partner to practice with in the Los Angeles area."

Meanwhile, head coach Jason Garrett is just excited for his team to face someone other than themselves in camp, a change that will come as a breath of fresh air, as well as a chance to ratchet up the level of competition in Oxnard.

"I just think it's a positive situation," Garrett said. "We've tried to do this as much as we can when the logistics work out during training camp. You grind away in training camp. Day after day after day, you're working against each other. And we try to create as many competitive situations as possible. We think that's good for our team. But anytime you start playing the preseason games or have an opportunity to go against somebody else in a practice setting, I think you can really benefit from it. It's a good way to evaluate your team collectively and individually and there typically are some good matchups there.

"The competitive spirit gets a little bit higher. I just think that's a really good thing for your team and it's a great way to evaluate a lot of different things. So we'll have a good couple of days with those guys after we play that first preseason game and hopefully it will benefit both teams."
Copyright FREEL - NBC Local Media