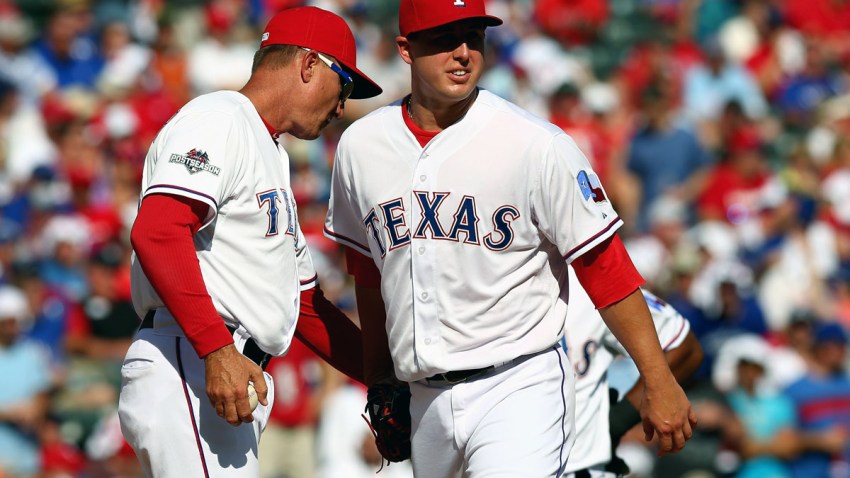 After a Game 3 loss that was a pretty good game against the Toronto Blue Jays in the ALDS last October, the Texas Rangers had a chance to close the series out at home in Game 4 and avoid a trip back to Canada.
Of course, we all know how that trip to Canada ended at this point, and we'd all rather forget about it, but the Rangers trotted Derek Holland out to the mound in Game 4 to prevent that trip from being necessary.
And Holland was awful.
Sports Connection
Connecting you to your favorite North Texas sports teams as well as sports news around the globe.
Like, seriously awful.
Holland lasted through two innings and two batters in the third and allowed six runs on three long balls, putting the Rangers in an inescapable hole before they even stepped in the batters box.
"Nobody is stupid," Holland told the Dallas Morning News on Wednesday. "I'm going to put it this way and I'm talking about me and nobody else — I choked. We had a 2-0 lead and shouldn't have lost the series. I'm pissed off about the way the season ended. But, that said, I don't want to talk about what happened in the past."
You get what he's saying, but at the same time, you have to say, "Of course you don't, Derek." I mean, it was terrible and it came in the worst spot and circumstances possible.
That rough ending to last season, in which he missed the first four-plus months, has Holland thinking he has the most to prove of any pitcher on the Rangers' staff, and he's right. Rangers manager Jeff Banister has even come out and said the two have spoken and Holland is very aware of his consistency issues in the past and knows Banister wants to see good Holland every fifth day.
"I need to get back to being me," Holland said. "I've shown the ability to dominate, but I'm not happy with the way things ended last year."
Copyright FREEL - NBC Local Media