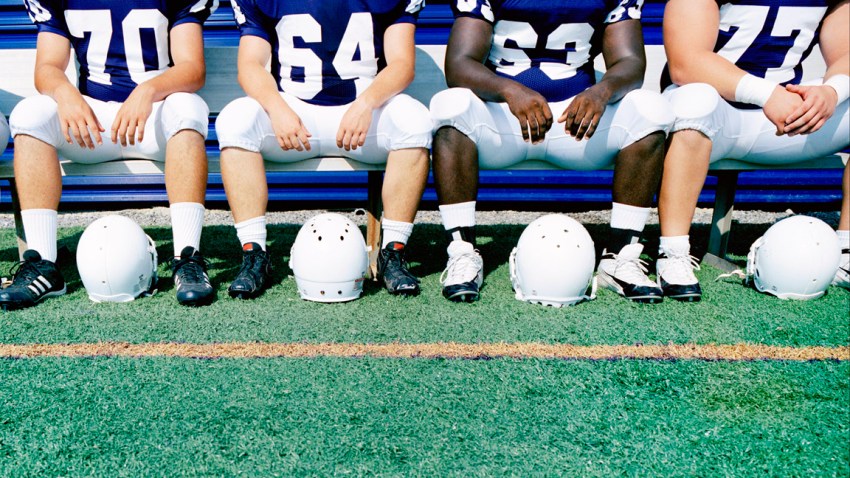 Eight teams. Eight head coaches. Eight fan bases.
That's who was able to step foot on the field at the new Cowboys Stadium on Monday to play in a quadrupleheader as part of the Kirk Herbstreit Series, which pitted some Texas powerhouses against some from other states' high schools.
And oh, what a beautiful site it was.
Sports Connection
Connecting you to your favorite North Texas sports teams as well as sports news around the globe.
As numerous players from Euless Trinity, Colleyville Heritage, Irving MacArthur, Mansfield Summit and Mansfield Timberview found out on Monday, JerryWorld and JerryTron are pretty fun to be a part of.
In the past, Texas Stadium was the desired location for all Metroplex teams once the postseason rolled around, and for that matter, teams across the state. Heck, it didn't even have to be postseason play. Some big rivalry games were played at Texas Stadium as well, such as Flower Mound Marcus and Lewisville's "Battle of the Axe".
But now, at least for this inaugural season, JerryWorld won't be hosting too many high school football games after Monday's extravaganza. There are concerts, college football games and even college basketball games to worry about. In fact, the Texas-North Carolina basketball game will be played on a Saturday in early December when teams would usually be playing triple- or quadrupleheaders at Texas Stadium in the past.
Also in the past, are the days of cutting high schools some slack when it comes to renting the stadium. Texas Stadium used to cost $5,000 to rent, and was split between the two participating schools. Now? How about $15,000? That's what one coach told me. That's just too steep and will probably only allow for certain teams to even have a chance to play there in the future -- when there aren't college basketball games scheduled. You know, the Highland Parks, Southlake Carrolls of the world.
Hopefully Jerry Jones will look back fondly at some of the great memories he helped create at Texas Stadium for fans, players and coaches alike, and try to bring high school football playoff and regular-season action back to the home of America's Team.
Adam Boedeker is a sports writer/award-winning blogger for the Denton Record-Chronicle. He ordered NFL Sunday Ticket along with SuperFan and can't wait until Sunday.
Copyright FREEL - NBC Local Media