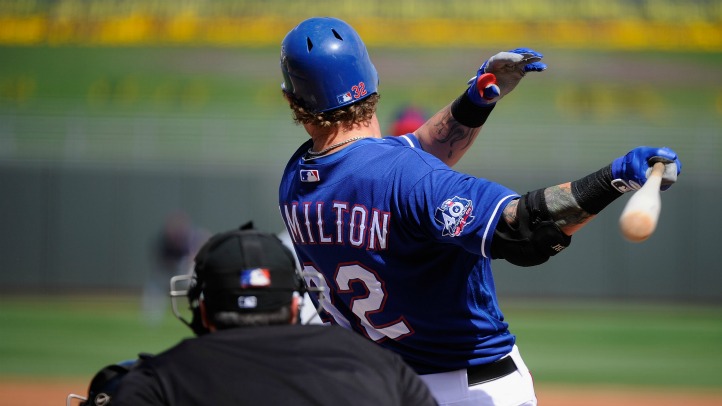 Josh Hamilton's numbers have hardly been outstanding this spring, hitting .229 with four RBIs and no home runs (yet), but he's been encouraged in the past week by the return of what he calls the "whip" in his swing--which was noticeably absent, for Hamilton anyway, in the early stages of camp.

"But I found it last week," Hamilton said, per ESPN Dallas. "I know I struck out three times [on Tuesday], but that was trying to swing too hard. I kept seeing those balls outside and felt like I could drive it. That was a learning moment for me."

Hamilton went on to say that he came to camp lighter this season, and that he can already feel a difference in his legs. They feel fresh, he says, and he says, and is fully prepared to start in center field for the Rangers if need be.

As far as the homer-less spring, Hamilton isn't worried--but he'd like to remedy the situation before the team departs from Surprise.

"I'd like to hit one before we get out of here," Hamilton laughed. "But I need to quit trying."
Copyright FREEL - NBC Local Media