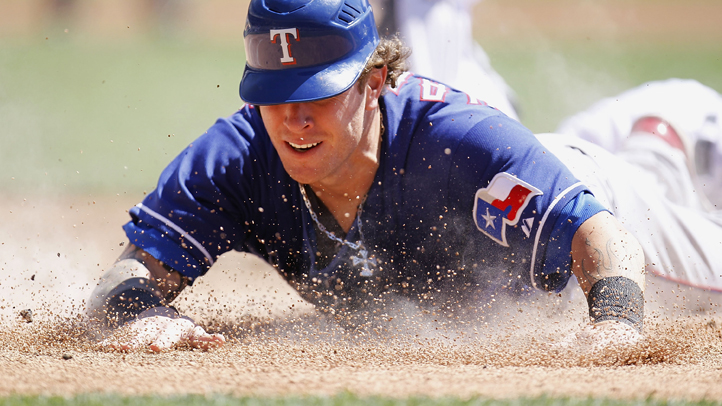 Texas slugger Josh Hamilton is expected to miss six to eight weeks after breaking his upper right arm on a headfirst dive into home plate Tuesday, a daring dash the AL MVP later called "stupid."
Hamilton tried to score from third on a foul popup near the Detroit dugout in the first inning. Third baseman Brandon Inge and catcher Victor Martinez both chased the ball, leaving the plate unprotected.
Inge made the catch, then tossed the ball to Martinez, who scampered back in time to tag Hamilton.
Sports Connection
Connecting you to your favorite North Texas sports teams as well as sports news around the globe.
"It was a stupid play," Hamilton said. "The whole time the ball was in the air, the coach was yelling, 'Go, there's no one at home,' and I was thinking, 'I don't want to do this, something is going to happen.'
"But I listened to my coach," he said, referring to third-base coach Dave Anderson. "It was way too aggressive. Maybe if they had both been closer to me, but they had a perfect angle to cut me off, and the only way to avoid a tag in that situation is to go head first."
Hamilton slid headfirst earlier in the inning on an RBI triple. The Tigers wound up winning 5-4.
Rangers general manager Jon Daniels defended Anderson's decision to send Hamilton.
"We play an aggressive style of baseball," he said. "The chances of getting hurt on that play are minimal."
The AL champion Rangers, off to a 9-2 start, said Hamilton has a non-displaced fracture of the humerus bone at the top of his arm, just below the shoulder. He isn't expected to swing a bat for a month.
The fracture was small enough that it wasn't detected on an X-ray, but Daniels held a conference call about two hours after the game with results from an MRI exam.
"Obviously, he's a big part of our club," Daniels said. "We built the club to deal with something like this."
Texas manager Ron Washington was actually giving Hamilton a breather Tuesday by making him the designated hitter instead of starting him in the outfield. Washington said before the game he planned to give Hamilton the day off entirely on Wednesday.
Now Hamilton's headed to the disabled list, and Daniels said the team will probably call up Chris Davis from Triple-A Round Rock.
Hamilton missed most of the final month of the regular season last year with two broken ribs after he made a catch, then rolled his ankle and stumbled hard into the outfield wall at Minnesota. He was back in time for the postseason and helped Texas reach the World Series.
Hamilton hit .359 with 32 home runs and 100 RBIs in 2010. He's hitting .333 this season.
In 2009, Hamilton was limited to 89 games when he had two stints on the disabled list after separate wall-crashing catches.
The Rangers gave him a $24 million, two-year contract in February, avoiding arbitration.
Copyright AP - Associated Press