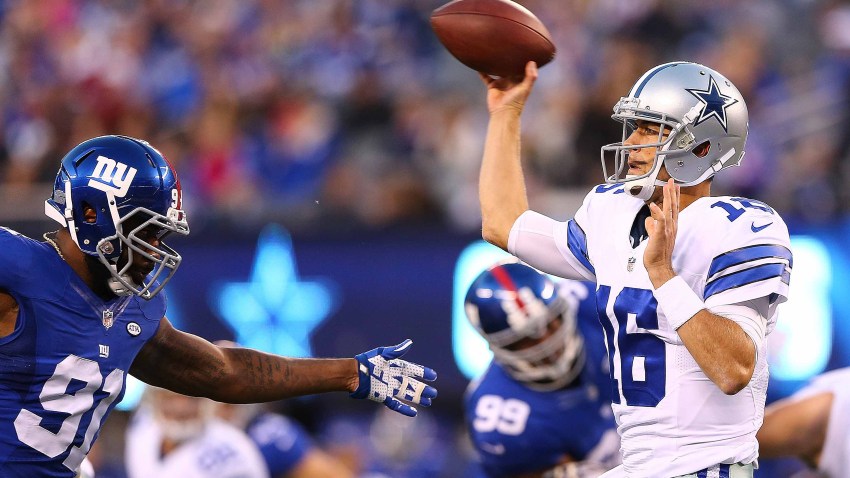 10. Toldja Matt Cassel would be better than Brandon Weeden. Unfortunately, at times Matt Cassel was also worse than Brandon Weeden.
9. Want a troubling trend? The Cowboys have been out-scored in the second half of the last three games by a whopping 75-20. Ouch.
8. Cassel shouldn't have thrown a three-yard pass on 4th-and-8 on Dallas' final offensive snap. But, then again, tight end James Hanna shouldn't have been standing seven yards short of the first-down line either.
Sports Connection
Connecting you to your favorite North Texas sports teams as well as sports news around the globe.
7. Last time the Cowboys lost four in a row was 2010 and the head coach was Wade Phillips. But not for long.
6. Cole Beasley is the Cowboys' punt-returner because of his savvy decision-making and sure hands. Oops. Call that a walk-off muff. And it capped a pretty horrible game for him, with 0 catches, an in completion off his helmet and the loss-clinching fumbled punt. I don't think Cassel leads the Cowboys to the tying touchdown in the final minute, but I'd like to have seen him get a chance to try.
5. I'm no GQ model, but does Joe Buck's orange hair and black beard make any sense to anyone? And is there anyone on TV who has a higher opinion of himself that Troy Aikman's partner? Geez.
4. Got nothing against Dwayne Harris, other than he left for the rival Giants. My question on his 100-yard kick-off return for the game-winning touchdown is why was Dan Bailey's kick so short? Entering the game Bailey had 21 touchbacks in 24 kickoffs. But Sunday he only had two in five attempts, allowing Harris the opportunity to be a hero.
3. Cassel had a couple of nifty throws and he made decisions and passes that Weeden wouldn't even try. But his performance – three picks – puts him right in line with the Cowboys' lousy lineage of quarterbacks who wore No. 16 – Steve Pelluer, Ryan Leaf, Vinny Testaverde … yuck.
2. Sorry I but don't think Dez Bryant and his "passion" want any part of an angry Greg Hardy. The defensive behemoth is one of the few Cowboys that's bigger – and, yes, crazier – than No. 88. And I really don't blame Hardy for being so upset. He was simply mad at the kick-off coverage unit. Weren't you?!
1. Truth is you're not going to win many road games in the NFL when you cough up four turnovers and surrender touchdowns on offense and special teams. The short-handed Cowboys have a chance when they play perfect. Sunday was ridiculously imperfect.

A native Texan who was born in Duncanville and graduated from UT-Arlington, Richie Whitt has been a mainstay in the Metroplex media since 1986. He's held prominent roles on all media platforms including newspaper (Fort Worth Star-Telegram, Dallas Observer), radio (105.3 The Fan) and TV (co-host on TXA 21 and numerous guest appearances, including NBC 5). He lives in McKinney with his wife, Sybil, and two very spoiled dogs.
Copyright FREEL - NBC Local Media