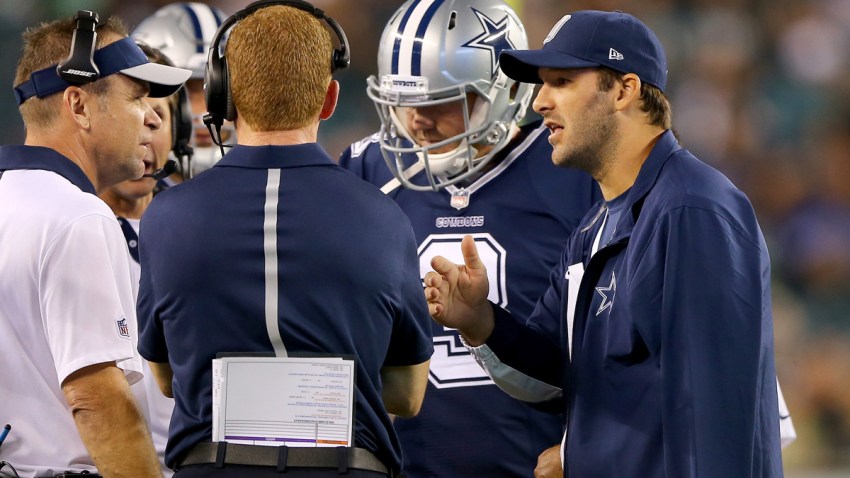 Cowboys head coach Jason Garrett has always preached the importance of a balanced offensive attack, but that message is highlighted in the wake of quarterback Tony Romo's fractured clavicle, which will keep the four-time Pro Bowler out for the next eight weeks or so.

Simply put, it's never been more important for the Cowboys to be able to establish the run, no matter if the opposing team loads the box in an effort to dissuade them from the run--which we'd imagine teams will do a lot, with Romo out--or not.

"What we're going to try to do is be a balanced offensive attack, and it starts with being able to run the football even when the numbers aren't right," Garrett said, per ESPN Dallas. "That's one of the best things we did last year. The numbers weren't right a lot, but we continued to persist and make that running game go for us."

The Cowboys' stable of running backs had flashes against the Eagles, but penalties helped to hamper their efforts. The team had a franchise record 18 on the day, and Darren McFadden and Joseph Randle finished with a combined 82 yards.

"We have to do a better job running the football. We were behind the chains way too much in this ballgame and kind of digging out," Garrett said. "You have procedure penalties and holding penalties and you see a lot second-and-12, second-and-16 and first-and-20, and those are hard drives to overcome.

"We're at our best when we're balanced. We're at our best when we control the line of scrimmage and run the football because it gives us great looks down the field to throw it and make the big plays down the field that we've made in this offense over a number of years."
Copyright FREEL - NBC Local Media