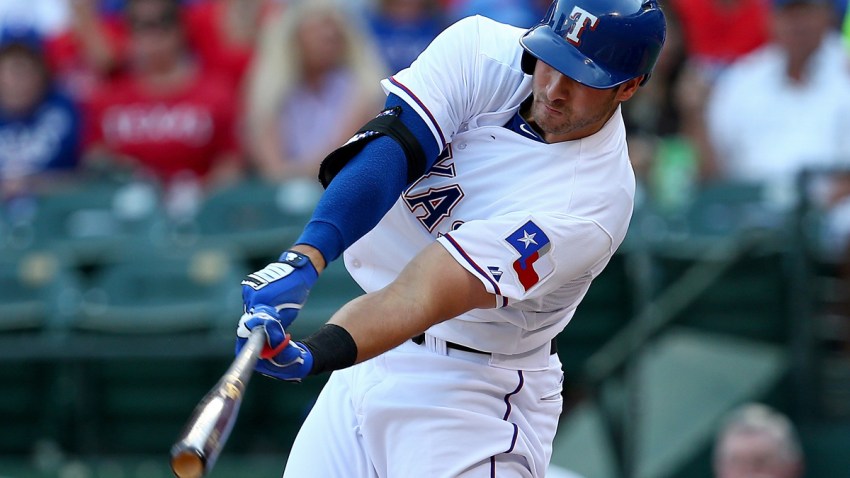 I'm not old enough to remember David Clyde's Rangers debut. I've heard plenty about it.
I do remember tuning into HSE to watch Ivan Rodriguez make his Rangers debut at age 19, and I was about the most thrilled an 11-year-old could be over a prospect making his big-league debut.
But nothing will compare to what I witnessed at Globe Life Park on Tuesday night with the major-league debut of Joey Gallo, the Rangers' top prospect and arguably the best power prospect in all of baseball.
Sports Connection
Connecting you to your favorite North Texas sports teams as well as sports news around the globe.
The buzz was real in the park when Gallo got up to bat in the first inning — people counting at batters to see what had to happen in each inning to see Gallo up again. It got louder when Gallo was gifted a two-run single on what really should've been an error on White Sox first baseman Adam LaRoche. But you get it, it's a home scorer determining whether the team's top prospect's first career at-bat results in a two-run single or a reached on error and no RBIs.
When he stepped to the plate again in third inning, the buzz was there again.
THWACK!!
First pitch, adios. Gallo's one of those guys you hear about that just makes a different noise when the ball hits his bat. It's special, and as soon as the ball left the bat, there was no question where it was going — about six or seven rows deep in the upper deck in right field.
His next at-bat had pretty much the same result. In fact, Rangers PA master Chuck Morgan hit the theme from "The Natural" to signal a Rangers home run before the ball glanced off the right field wall about a foot from clearing, forcing Gallo to settle for a double.
In his next at-bat, Gallo struck out against a lefty — not at all a shock, given his track record against southpaws — and he received a standing ovation in what appeared to be his final at-bat of the night.
But alas, there was one more at-bat. Gallo fell behind 1-2 in the count and then ended up drawing a walk, in what honestly might have been his most encouraging at-bat of the night. In the midst of the at-bat, the crowd at Globe Life began chanting Gallo's name, and doing it loudly.
It was a special night, and one myself and 27,000 other lucky souls will remember for a long time, along with about 30,000 others who claim they were there the night Joey Gallo set the baseball world on fire.
From all we've heard, this is going to be a brief ride for Gallo in the big leagues before he heads to Triple-A Round Rock when Adrian Beltre returns, and that's the way it should be. But while he's here, buckle up and enjoy the ride. It's going to be a fun one.
Copyright FREEL - NBC Local Media