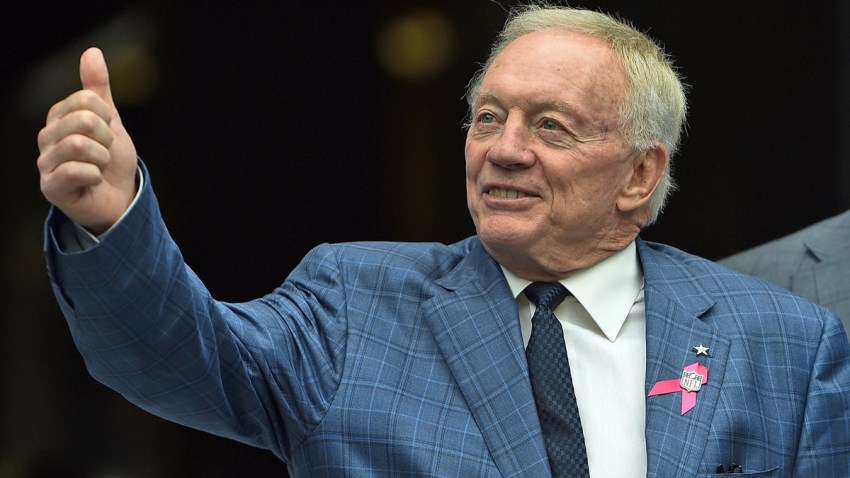 Last year he was crowned a genius. This year he's in the corner, wearing a dunce cap.
Maybe you've heard of him? Goes by the name Jerry Jones.
Like his team, Jones has suffered a severe decline this season. From the NFL's Executive of the Year to … the GM who trusted Joseph Randle, dragged out Dez Bryant's contract negotiations and didn't secure a capable backup for quarterback Tony Romo. There are, of course, a myriad of reasons why the Cowboys have nose-dived from 12-4 last year to 2-5 this year, but let's start with Jones' three significant gaffes.
Sports Connection
Connecting you to your favorite North Texas sports teams as well as sports news around the globe.
Dez Bryant – Yes, it was a business decision, but the strategy to not sign the Pro Bowl receiver until just before training camp has been devastating. No one worried about Bryant's off-season conditioning, but he was prohibited by NFL rules from working out with the team through the summer. The result? He was limited most of camp and preseason with hamstring problems and then broke his foot in the first game. Now we're nearing the halfway point of the season and the Cowboys' main offensive weapon has seven catches and is yet to score his first touchdown. Ouch.
Running Backs – None of us really believed that DeMarco Murray was that good. Nonetheless, we were a tad queasy at the Cowboys' arrogant "committee" approach that featured a bunch of mediocre runners. The tipping point was the offensive line, but with Romo injured and defenses keying on the run, it hasn't been dominant enough to control games by opening holes. Lance Dunbar was off to a fast start when he was injured, but health has always been a problem for him. Joseph Randle was entrusted as the "committee" chairman, and that proved a fallacy when his lack of production and maturity led to his release on Tuesday. That leaves Darren McFadden, who's been better than advertised but still not enough to make Jones' strategy do anything but fail miserably. The Cowboys passed on signing a proven veteran like Chris Johnson, who signed instead with the Cardinals is the NFL's second-leading rusher.
Quarterback – I've been covering Jerry since he arrived in 1989 and – other than Steve Beuerlein, who replaced an injured Troy Aikman to go 4-0 in 1991 – backup quarterback has always been a glaring deficiency. The Cowboys have seemingly always been just a sack away from having their hopes fall into the lap of a Brad Johnson, Babe Laufenberg, Stephen McGee, Anthony Wright or … Brandon Weeden. I don't blame Jones for trading for Matt Cassel, but so far it's been an ineffective solution to a self-inflicted problem. Nothing in Weeden's past with the Browns or in his pre-season cameos with the Cowboys gave us confidence he could win a game or two in Romo's absence. Jones' oversight – based in his stubbornness – left the Cowboys vulnerable to a steep spiral without Romo.
The Cowboys are having a bad year. And it starts right at the top.
A native Texan who was born in Duncanville and graduated from UT-Arlington, Richie Whitt has been a mainstay in the Metroplex media since 1986. He's held prominent roles on all media platforms including newspaper (Fort Worth Star-Telegram, Dallas Observer), radio (105.3 The Fan) and TV (co-host on TXA 21 and numerous guest appearances, including NBC 5). He lives in McKinney with his wife, Sybil, and two very spoiled dogs.
Copyright FREEL - NBC Local Media