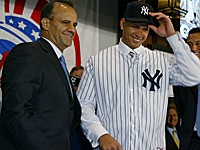 On Tuesday, the Dallas Cowboys finalized plans to hold two days of joint training camp practices with the St. Louis Rams.

The announcement caused some to wonder if the Rams' involvement has anything to do with the possibility that they'll move to Los Angeles in the relatively near future--along with the Rams, the two teams Dallas has traditionally scrimmaged against, the Oakland Raiders and the San Diego Chargers, have also been named as teams that could potentially move to LA--but Rams' head coach Jeff Fisher says that's not the case at all.

"The two are not related," Fisher said, per ESPN Dallas. "The Cowboys have practiced against somebody just about every year there. The facility is such that it welcomes another team.

"So we talked to a number of teams besides the Cowboys about working together with them and Cowboys is really the only one that worked out."

The Cowboys' training camp home of Oxnard, CA is about an hour northwest of Los Angeles.

Copyright FREEL - NBC Local Media