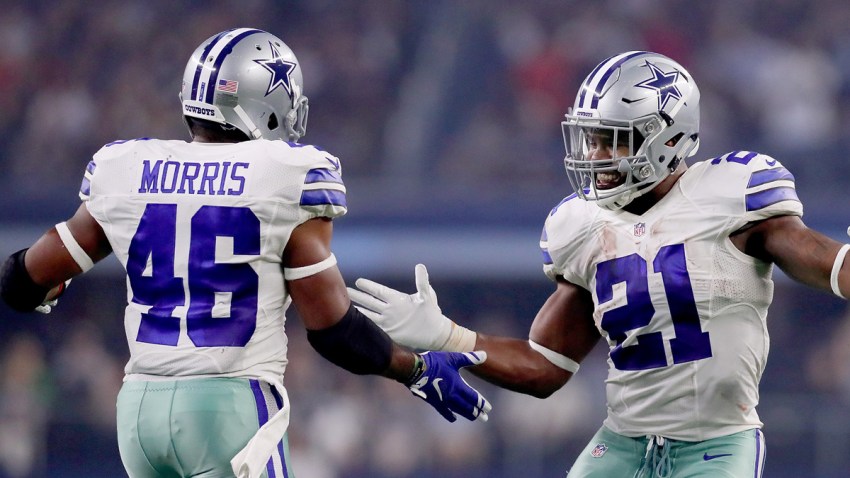 Alfred Morris has three 1,000-yard seasons on his resume, including one season with 1,600 yards.
In 2015, Darren McFadden finished fourth in the NFL in rushing for the Cowboys.
So you're wasting your time asking either one of them about whether they can adequately replace Ezekiel Elliott during his six-game suspension.
Sports Connection
Connecting you to your favorite North Texas sports teams as well as sports news around the globe.
"A lot of people are thinking that the running game is going to falter because Zeke's not here, but that's not the case," Morris said. "Will we miss him? Yeah. But at the same time, the train goes on. We're going to do our job."
Rod Smith, who's gone from special teams player to the only other running back on the team with a role besides Elliott during the first seven games, has a similar mindset.
"Zeke is the head honcho in our room right now, but like I said, it ain't gonna be no slowing down," he said. "We're going to keep going.
"Ain't slowing nothing down — just going out there and keeping the ball rolling. We're gonna take care of that, and we'll have the seat hot and ready for him when he gets back."
Smith has impressed the coaching staff with practice habits and improvement, especially as a blocker.
He's been their third-down back at various times this season and coach Jason Garrett said the Cowboys go into every game with a small package of plays for him.
The reality is Garrett doesn't really care all that much who's running the ball — all three will get chances — but he knows the best way for the Cowboys to win games is by dominating with their running game.
Morris will get the first chance to start and be the epicenter of rushing attack. He earned it with a string offseason and training camp that allowed him to surpass McFadden.
He's improved as a blocker and a receiver, and the Cowboys think his running style and the way he runs plays mimics Elliott's style more closely than McFadden.
Morris took the first-string snaps Wednesday, but if he doesn't produce at a high enough level you shouldn't be at all surprised to see Smith get an opportunity to be the featured runner.
He ran well in training camp, and he had 61 yards on eight carries in a 40-10 blowout win over San Francisco, including a 45-yard run.
He tends to fall forward when he runs, and he's capable of getting the dirty yards that sustain drives.
McFadden, the fourth player taken in the 2008 draft, is the forgotten man. He's been inactive all season, and carried the ball just 24 times in 2016.
In 2015, McFadden gained 1,089 yards on a career-high 239 carries, had nine runs of 20 yards or more and was among the best players on the Cowboys' offense.
"I'll be a little rusty, but I feel like it won't take me long to shake it off at all," McFadden said. "I feel fresh. I've been taking care of my body, doing everything I'd do as if I was playing.
"Fortunately enough I haven't had those hits so I feel like maybe I'm even a step ahead."
The running offense won't change in terms of style without Elliott. The Cowboys want to be a power-running team that controls the line of scrimmage and the game by putting its quarterback in short-yardage situations on second and third down.
This is still one of the NFL's best offensive lines. The running game doesn't have to be dynamic, but it must be good.
Their going to run the same plays; the result might just be different. After all, Elliott is among the best in the game.
He has a combination of speed, acceleration, power, strength, agility, balance and vision most backs don't.
"Zeke is a different running back. That's something you just can't account for the things he can go out there and do," McFadden said. "We definitely have some playmakers in the backfield.
"The only thing we can do is go out there and play our game. Some of the things that Zeke does we're just going to go out there and maybe do them in a different way."
The Cowboys hope it's good enough.