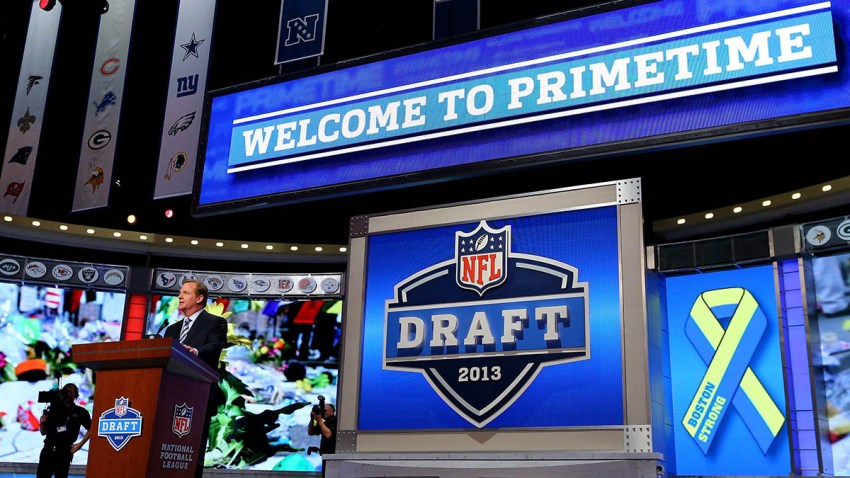 Got a lot of feedback on last week's blog post in which I suggested the Cowboys shouldn't draft a quarterback with their top pick. The sentiment, in general, sounded like this:
"This is where the great quarterbacks are found, in the Top 5!"
"Why would you risk trying to find a Super Bowl quarterback somewhere else than a top pick?"
Sports Connection
Connecting you to your favorite North Texas sports teams as well as sports news around the globe.
"You're an idiot!"
While the merit of the last entry is certainly debatable, the other two are also saturated in fallacy. How's that?
Because while conventional wisdom suggests Super Bowl-winning quarterbacks are high draft picks, research and fact suggest otherwise. The Cowboys have the 4th overall pick in the NFL Draft.
Since 1990 – a span of 26 years – 28 quarterbacks have been drafted in the top four. Of those 28, how many have actually won a Super Bowl?
Three.
That's right, three. The Mannings (Peyton and Eli) and Drew Bledsoe. So for you draft geeks immersed in percentage probabilities, it means that by drafting a quarterback in the top four the Cowboys will give themselves a 10 percent chance of winning a future Super Bowl.
Okay, maybe my math's a tad exaggerated. But you get the point. Drafting a top four quarterbacks does little to ensure success. For every Manning there is a Heath Shuler, Ryan Leaf, Tim Couch, Joey Harrington, JaMarcus Russell or Robert Griffin III.
What I'm saying is that drafting a quarterback No. 4 won't help the Cowboys this season, and there's no guarantee it will help them reach a Super Bowl in the future. If the Cowboys think Carson Wentz or Jared Goff or Paxton Lynch is the best player available at No. 4, take him. But if they're drafting a quarterback just because they're panicked about life after Tony Romo, history suggests they'll be sadly disappointed.
It's subjective, obviously, but in my opinion 14 of the 28 Top 4 quarterbacks turned out to be bad draft picks.
At look at the quarterbacks drafted in NFL's Top 4 picks since 1990:
90: Jeff George
93: DREW BLEDSOE, Rick Mirer
94: Heath Shuler
95: Steve McNair
98: PEYTON MANNING, Ryan Leaf
99: Tim Couch, Donovan McNabb, Akili Smith
01: Michael Vick
02: David Carr, Joey Harrington
03: Carson Palmer
04: ELI MANNING, Philip Rivers
05: Alex Smith
06: Vince Young
07: JaMarcus Russell
08: Matt Ryan
09: Matthew Stafford
10: Sam Bradford
11: Cam Newton
12: Andrew Luck, Robert Griffin
14: Blake Bortles
15: Jamies Winston, Marcus Mariota
A native Texan who was born in Duncanville and graduated from UT-Arlington, Richie Whitt has been a mainstay in the Metroplex media since 1986. He's held prominent roles on all media platforms including newspaper (Fort Worth Star-Telegram, Dallas Observer), radio (105.3 The Fan) and TV (co-host on TXA 21 and numerous guest appearances, including NBC 5). He lives in McKinney with his wife, Sybil, and two very spoiled dogs.
Copyright FREEL - NBC Local Media