Day 5 of the 2016 Rio Games features major events for Michael Phelps, men's and women's basketball and beach volleyball as well as a North Texan competing in fencing.
TO WATCH: Tune in to NBC 5 at 7 p.m. for primetime coverage from Rio. Or return here to watch on your phone, tablet or computer.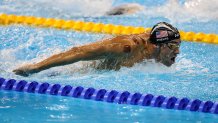 MICHAEL PHELPS FACES RYAN LOCHTE ON THURSDAY
Michael Phelps will face teammate Ryan Lochte, the current world record holder, in the men's 200m individual medley final Thursday night. Phelps came in first in the semifinal followed closely by Lochte.
DALLAS RESIDENT COMPETES IN FENCING
Sports Connection
Connecting you to your favorite North Texas sports teams as well as sports news around the globe.
Dallas resident Mona Shaito represented her father's home country of Lebanon in women's individual foil. Shaito, who was born in McKinney and grew up in Garland, has a dual citizenship.
Shaito lost in the first round to American Lee Kiefer.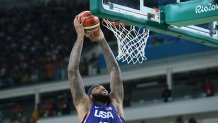 US MEN'S BASKETBALLL TEAM GETS TESTED, BEATS AUSTRALIA
The blowouts are over. After nothing but pushovers this summer, the U.S. men's basketball team faced someone who pushed back. "This is the real world now and that's good for us," coach Mike Krzyzewski said.

Finally tested, Carmelo Anthony and Kyrie Irving had the answers.

Anthony scored 31 points on the night he became the U.S. men's Olympic career scoring leader, combining with Irving for all the Americans' baskets in the fourth quarter of a 98-88 victory over Australia on Wednesday night.
The powerhouse U.S women's team (with Duncanville's Tamika Catchings) beat Serbia 110-84, that makes three dominating wins.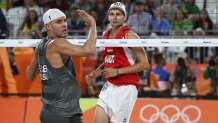 WALSH JENNINGS-ROSS TEAM STILL UNDEFEATED, GIBB-PATTERSON TEAM ELIMINATED
Americans Kerri Walsh Jennings and April Ross have finished the Olympic group stage unbeaten, but not before losing their first set of the Summer Games.

The U.S. women beat Switzerland 21-13, 22-24, 15-12 on Wednesday night to win their pool with a 3-0 record. They now await news on an opponent for the round-of-16, which begins Friday.

Walsh Jennings is going for her fourth straight Olympic gold medal. Ross won silver in London.

The Swiss team of Isabelle Forrer and Anouk Verge-Depre did win the second set. The Americans fought off three set points before the Swiss converted the fourth.

It's just the second set Walsh Jennings has ever lost at the Summer Games. She won three gold medals with Misty May-Treanor, sweeping Athens and Beijing before losing a single set in London.
Meanwhile, the American beach volleyball team of Jake Gibb and Casey Patterson has been eliminated from the Olympics on a tiebreaker. The U.S. pair would have advanced if they had given up seven fewer points. They are the first U.S men's team to fail to advance out of pool play in beach volleyball since the 2004 Games in Athens.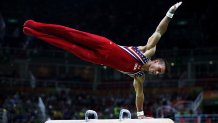 JAPAN's UCHIMURA RALLIES FOR SECOND GOLD IN MEN'S GYMNASTICS
Kohei Uchimura's gold-medal haul keeps growing.

The superstar gymnast from Japan won the men's all-around title on Wednesday, edging Oleg Verniaiev by less than a tenth of the point to capture his second straight Olympic title.

Uchimura trailed heading into the final rotation but put up a dazzling 15.8 on high bar. Verniaiev followed with a less challenging routine and hopped forward on the dismount.

Needing 14.9 to win, Verniaiev instead earned a 14.8. The crowd groaned when the score was revealed, though Verniaiev shrugged his shoulders as if to say "what can you do?"

Max Whitlock of Great Britain was third, just ahead of Russia's David Belyavskiy.