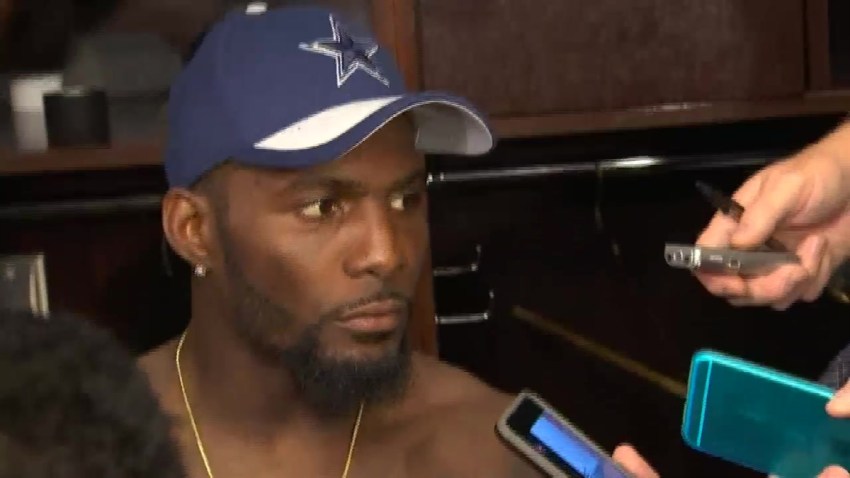 Dallas Cowboys receiver Dez Bryant strongly denies having said anything in Seahawks return man Ricardo Lockette's direction while Lockette was on the turf following a scary collision with Cowboys safety Jeff Heath on the final kick return of the first half.

The officials called a blindside block on Heath on the play (though whether anything at all should have been called is debatable), and the Seahawks sideline were upset. Shortly thereafter a Vine video claimed to show Bryant pointing and yelling "That's what the (expletive) he gets." But it appears he was talking to Seahawks linebacker Bruce Irvin.

The very accusation that he was taunting an injured player angered Bryant.

"I won't ever, ever, ever, ever wish bad on a player that's been knocked down. Come on, man. Stop with the bulls---," Bryant said, per Todd Archer of ESPN Dallas. "Not once did I say that's what you get. I got on one knee and prayed for that man.

"I got on one knee and prayed for him. C'mon, man. Don't put clips together and do that."

Bryant didn't deny talking a lot, both to officials and Seahawks players, in the immediate wake of the injury. But he says what was seen in the video clip didn't have anything to do with the injured Lockette.

"It didn't have nothing to do with [Lockette]," Bryant said. "I swear on my daughter's soul I would never in my life do that to anybody. I could've been talking about something completely ... I'm too busy trying to break it up, trying to get our players back. I'm telling Richard [Sherman] and Earl [Thomas] 'y'all get your players back.' I'm talking to the officials more than anybody."
Copyright FREEL - NBC Local Media