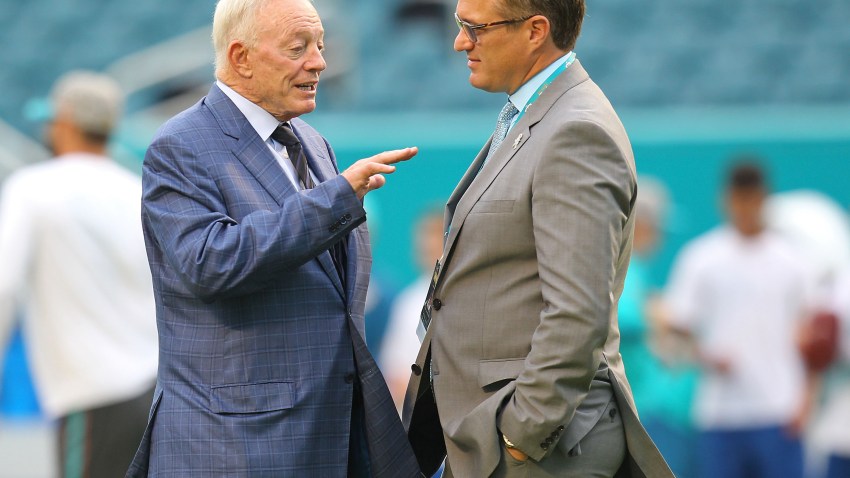 Jerry Jones is on the ballot as a contributor for the 2017 Pro Football Hall of Fame class. The vote will happen February 3 in Houston, Texas, the night before Super Bowl LI.
One Denver writer is upset at the Cowboys owner and general manager is on the ballot over longtime Broncos owner Pat Bowlen. Sadly, in 2014 the club was turned over into a trust because Mr. Bowlen has Alzheimer's.
Jones is a slam dunk to get in, just my opinion. Mike Klis wrote this for NBC Denver:
Sports Connection
Connecting you to your favorite North Texas sports teams as well as sports news around the globe.
"It's an outage that Jones – an active owner – got in before Bowlen, who in 2014 turned over controlled of the Broncos into a trust because of his battle with Alzheimer's. Before going too far, I like Jerry Jones. He's cooperated with me whenever I've asked him a question.
Two years ago, when I was working with the Denver Post, I talked to both Jones and Tagliabue about a story regarding Bowlen's potential Hall of Fame candidacy."
Taking shots at Jones isn't what's needed. Klis needs to take it up with the voters who came up with the nominations. Jones should be on the ballot and if he has beef it should be with former NFL commissioner Paul Tagliaube's candidacy.
NFL writer Mike Freeman tweeted, "Tagliabue being a Hall of Fame finalist is curious. Much of the CTE crisis occurred under his watch."
Instead Klis continued to bang away on Jones:
"It's just not Jones' turn. History should not be judged by contemporaries. And Jones is still very active. He's still got a lot of time to mess up."
Bowlen should be on this Hall of Fame ballot but Jones has earned his spot as well.