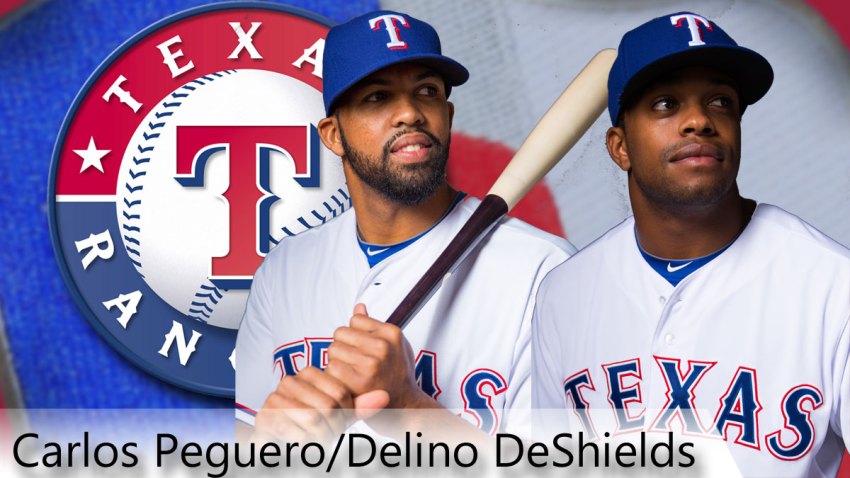 The Texas Rangers will most likely see the return of their former hero Josh Hamilton either this weekend or early next week, as the former AL MVP turned heel is finishing off his rehab assignment in Triple-A Round Rock, which is more serving as his spring training following the trade back to Texas from the Los Angeles Angels for pennies on the dollar.
So that begs the question, who will go down to the minors when Hamilton comes up?
The easy answer would be struggling fourth outfielder Jake Smolinski, but he's almost certainly going to be the casualty when Mitch Moreland makes his return to the Rangers on Wednesday after a rehab stint of his own.
Sports Connection
Connecting you to your favorite North Texas sports teams as well as sports news around the globe.
After Smolinski, the picture gets a lot more cloudy.
There's Kyle Blanks, who could be expendable with Moreland's return, but the big first baseman is one of the Rangers' few right-handed bats producing at the moment, and he also has some prodigious power. It could be that Moreland and Blanks serve as a nice righty-lefty platoon at first base with Prince Fielder serving as the full-time DH.
That basically leaves the options at two guys — outfielders Carlos Peguero and Delino DeShields Jr.
From the standpoint of sexy numbers, DeShields is the obvious choice here as Peguero actually holds the team lead in home runs. But DeShields has stolen nine bases and averaged more than a run per game over the last five games with some more playing time due to Leonys Martin's injury. He is also a more natural center fielder than Peguero, who can play center but is more suited for the corners, so he can spell Martin from time to time, if needed.
Peguero has tons of power, but he also strikes out in 40 percent of his at-bats this season, which is a crazy bad number. It also makes it hard to believe he'll sustain his recent hot streak. He does draw walks, but you're basically looking at an Adam Dunn that might hit 15-20 homers instead of 35-40 homers, which basically makes him not nearly as good as Adam Dunn.
It's a sticky situation to let either go down because Peguero is out of options and could request free agency if demoted. Meanwhile, DeShields was a Rule 5 draft pick so would have to be offered back to Houston if he's taken off the big-league roster.
One option would be to put someone on the disabled list and put off this decision for a bit longer, with Martin being a prime candidate due to his nagging wrist injury. But if you're simply choosing between Peguero and DeShields, I think you have to go with Peguero. That's hard to say, because I've championed Peguero all year, but DeShields' threat on the bases is worth a lot, and Peguero keeping up this run of power seems a bit unlikely.
Plus, if you're counting on Peguero to be your power bat, you're in bad shape, especially when you have guys like Adrian Beltre, Fielder, Moreland and even Hamilton on the roster.
It's going to be interesting to see what the Rangers choose here.
Copyright FREEL - NBC Local Media