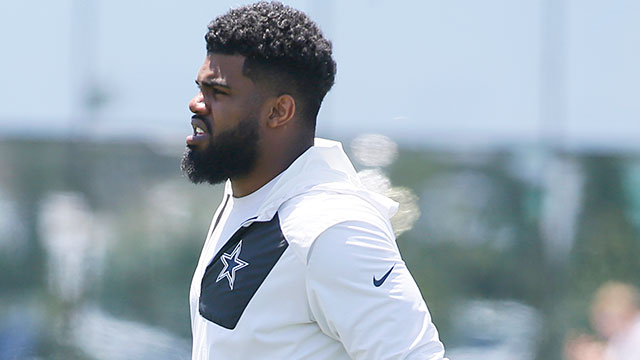 Coaches love to talk about their "next man up" philosophy every time a player gets hurt.
There's one problem with it: Everyone ain't replaceable.
Ezekiel Elliott fits into that category as the Cowboys and coach Jason Garrett will soon find out.
Sports Connection
Connecting you to your favorite North Texas sports teams as well as sports news around the globe.
Alfred Morris will play hard. So will Darren McFadden, who has been inactive for every game this season. The same goes for Rod Smith.
None of them is close to being as good as Elliott. It's not a knock on them, it's the truth.
We all know it.
Judge Katherine Polk Failla dissolved Elliott's preliminary injunction Monday, putting the NFL in position to reinstate its six-game suspension of the 2016 rushing leader for violating the league's personal conduct policy.
Failla rejected Elliott and the NFL Players Association's assertions that the NFL conspired to prevent Elliott from receiving a fundamentally fair appeal.
She granted a 24-hour stay on her ruling so Elliott, who attended the hearing Monday evening in New York, can consider appellate options in the 2nd U.S. Circuit Court of Appeals.
We all knew the Elliott was eventually going to serve this suspension, but most folks didn't expect him to serve it until next season because of various appeals.
He's eligible to return to the Cowboys for their Dec. 17 game against the Oakland Raiders.
The Cowboys, who moved over .500 with their 33-19 win over Washington on Sunday, will play Kansas City, Atlanta, Philadelphia, San Diego, Washington and the New York Giants without Elliott.
Reality says the Cowboys, who trail Philadelphia by two games in the NFC East, must go no worse than 3-3 to have a shot to make the playoffs when Elliott returns to the lineup.
Then the Cowboys would be 7-6 when Elliott returned and they would still have one game with Philadelphia left that might have some bearing on the NFC East title or a wild card spot.
That's why no time for a pity party exists.
Elliott has gained 690 yards on 164 carries this season, but he's been at his best the last three games with 418 yards on 88 carries - a 4.6 average - and four touchdowns.
He's gained more than 100 yards each of the last three games, and he scored on a 72-yard screen pass in a 40-3 route of San Francisco.
The question is whether the combination of Morris, McFadden and Smith is good enough to help the Cowboys win games, during Elliott's suspension.
Morris has 13 carries for 105 yards this season, but 70 came on one run against Green Bay. He hasn't been a full-time starter since 2014, when he gained 751 yards on 202 carries for Washington.
He has 12 career 100-yard games, the last came in the final game of the 2015 season, when he carried 19 times for 100 yards in a win over the Cowboys.
A strong training camp showed his improvement as a receiver and a blocker and nudged him ahead of Darren McFadden, which is why he's been Elliott's backup all season.
The Cowboys also preferred Morris over McFadden because his style is more similar to Elliott's running style.
McFadden started 10 games in 2015 and finished fourth in the NFL with 1,089 yards rushing. He had five 100-yard games, but scored only three touchdowns.
Smith is the wild card, having increased his role from the start of training camp. The coaching staff likes his approach and they've been giving him more opportunities to play the last few weeks.
None them, however, can impact a game like Elliott.
See, Elliott doesn't just gain yards. He establishes a tone for the entire offense.
As Garrett often says, "The runner matters."
Look at how Elliott consistently falls forward, punishing defenders in the first three quarters so they have no interest in tackling him in the fourth quarter.
He's an excellent short-yardage runner, which helps sustain drives, and he's good at the goal line, which leads to points. He's a good receiver with three receptions of more than 30 yards this season, and he's a terrific blocker.
"I think the way we've constructed our roster has taken his situation into account," Cowboys coach Jason Garrett said Monday before Failla's ruling. "We have some veteran running backs, we have some depth at that position.
"It's not like we're just living this day and we don't think about the future at all, you have to do that."
The future is now.