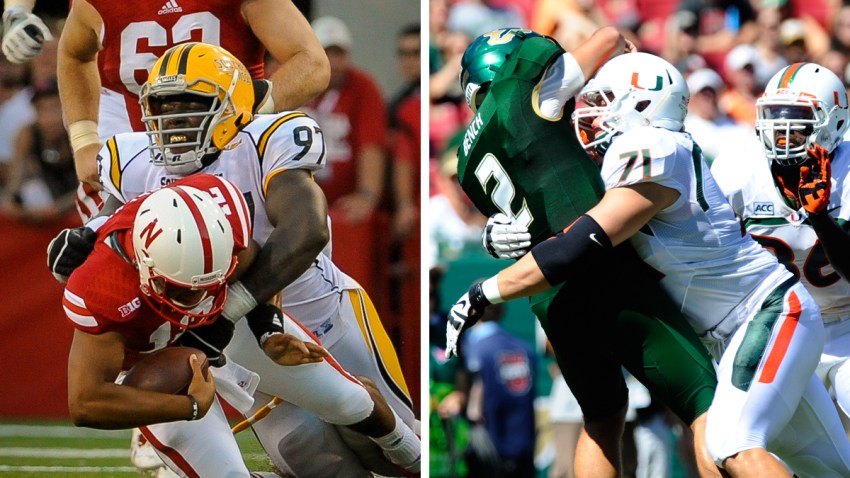 The best way to improve a defense is to start up front. The Cowboys don't have any immediate needs on their defensive line, but there are several questions beyond this year.
There's a good chance that a promising edge rusher — like UCLA's Owamagbe Odighizuwa or LSU's Danielle Hunter — or an ideal 3-technique tackle — Ohio State's Michael Bennett or Clemson's Grady Jarrett — will be available when the Cowboys pick at No. 27. If not, though, there are a few options that should be available on Day 2 or even later.
Rakeem Nunez-Roches, DT, Southern Miss
Ht. 6022, Wt. 307, Arm: 32 5/8", Hand: 10 1/8", Bench: 26
40 yd: 5.02, 10 yd.: 1.72, 3 Cone: 7.67, Vertical: 34", Broad: 9'6"
I'll be honest...I hadn't even heard of Nunez-Orches until a few days ago, but man did he show up on tape. It's easy to see why the Golden Eagles' redshirt junior earned first-team all-conference honors as a junior with 14 tackles for loss, 3 sacks and a blocked field goal.
Strengths: Disruptive. Highly athletic with good balance. High effort player.
Weaknesses: Needs to strengthen base. Some of his burst is snap anticipation. Short arms.
I watched Nunez-Roches play against Alabama and Mississippi State, and he looked like he belonged on the same field in terms of talent level. He was often asked to control the nose, but he looks like a future attacking 3-technique like the one the Cowboys utilize.
Sports Connection
Connecting you to your favorite North Texas sports teams as well as sports news around the globe.
Bobby Richardson, DL, Indiana
Ht. 6025, Wt. 283, Arm: 35 5/8", Hand: 11", Bench: -
40 yd: 5.16, 10 yd.: 1.78, 3 Cone: 7.57, Vertical: 32.5", Broad: 8'10"
Richardson was voted an honorable mention on the All-Big 10 team by the coaches and media as a senior, notching 9.5 tackles for loss and 5.5 sacks.
Strengths: Versatile. Big, heavy hands. Exceptional length. Quick and agile.
Weaknesses: Doesn't use his hands to disengage. No set position.
Richardson is an intriguing developmental option because he has NFL-quality attributes and experience in several different roles. He looks like a promising prospect as a 3- or 5-technique. Former Cowboys scout Gil Brandt even suggested moving him to offensive tackle recently.
Frank Clark, EDGE, Michigan
Ht. 6027, Wt. 271, Arm: 34 3/8", Hand: 10 1/8", Bench: 19
40 yd: 4.79, 10 yd.: 1.70, 3 Cone: 7.08, Vertical: 38.5", Broad: 9'10"
Clark was very successful on the field, being named second-team All-Big 10 as a junior. He was having an even better senior season — 13.5 tackles for loss and 4.5 sacks in 10 games — before being dismissed following a domestic violence arrest.
Strengths: Good burst. Active hands. Disruptive. High motor. Disciplined. Instinctive. Good run fits. Gets hands up at line of scrimmage.
Weaknesses: No good pass rush moves. Mediocre anchor. Average push against the run. Likely off several teams' boards after arrest.
On the field, there's not much separation between Clark and someone like Shane Ray, who's projected to be picked in the top half of the first round. He's a second-round talent that could be picked Day 2 if NFL teams are satisfied with the resolution of his legal issues.
Anthony Chickillo, EDGE, Miami
Ht. 6031, Wt. 267, Arm: 33 1/2", Hand: 10 1/8", Bench: 27
40 yd: 4.79, 10 yd.: 1.59, 3 Cone: 7.17, Vertical: 34.5", Broad: 9'6"
Chickillo went to Miami as a 5-star prospect and was exactly the player the Hurricanes should have expected. Miami fans might have been disappointed in his production, but his coaches didn't put him in the best position to excel.
Strengths: Exceptional burst. High motor. Tough against run. Flashed pass-rush ability.
Weaknesses: Mostly projection. On-field athleticism in question.
Chickillo's college coaches asked him to consume blockers as a 5-technique in the team's 3-man front, but he's best suited as a penetrating defensive end. Only three defensive linemen recorded faster 10-yard splits at the combine and they're all edge rushers that are considered top-50 picks. Chickillo could be a third-round steal for a 4-3 team like Dallas.
Conclusion
What the Cowboys do in this draft at defensive end could give an indication about their long-term intentions with newly-signed Greg Hardy. If they think he's a one-year option, one of the team's first three picks will likely be used on an edge defender.
The Cowboys have a 3-technique at the moment, but that's a position where you want elite play and depth. If they don't land an elite prospect, a guy like Nunez-Roches or Richardson could provide depth.