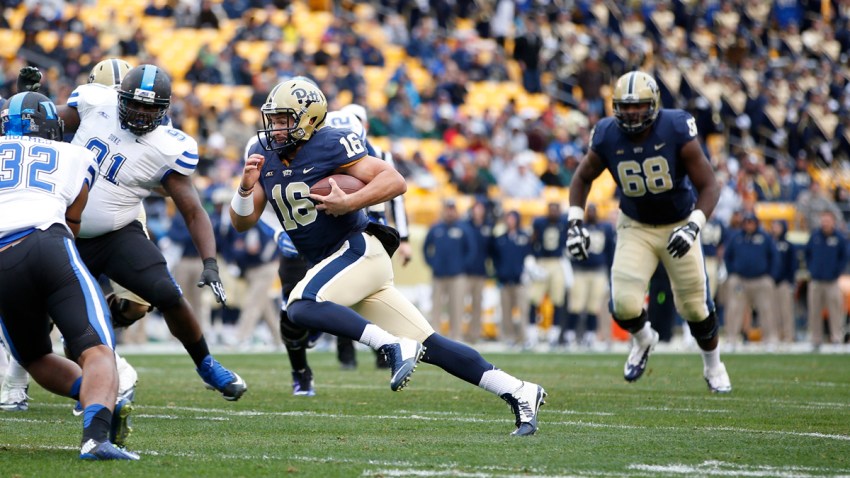 The success of the Cowboys' run game might have been a surprise, but the level of play by the offensive line shouldn't have been. The team spent three of their last four first-round picks on offensive linemen and the results speak for themselves.

The Cowboys used a mainly zone-blocking approach in 2014 and their "type" of offensive lineman — athletic and intelligent — reflects that philosophy. The team's strength does have a few issues, though, and the front office should consider using a pick in the first three rounds on an lineman if the right one falls.
T.J. Clemmings, Pittsburgh
Ht. 6046, Wt. 309, Arm: 35 1/8", Hand: 10 3/8", Bench: 22
40 yd: 5.14, 10 yd.: 1.80, 3 Cone: 7.68, Vertical: 32.5", Broad: 9'3"
Clemmings went to Pittsburgh as Scout.com's No. 6 defensive end prospect in 2009 and then appeared in 16 games at that position. He switched to offensive line before the 2013 season and then started 26 games at right tackle for the Panthers, earning first-team All-ACC and second-team All-America honors as a senior.
Strengths: He punches like a young George Foreman. Good kick-slide. Mirrors well. Efficiently moves to the second level to block. Excellent length.
Weaknesses: Inexperienced. Must improve hand use. Might be considered to "finnesse-y" to play inside.
Like Zach Martin, Clemmings has the athleticism to play left tackle and the strength to kick inside at guard. His lack of experience at the position and undeniable upside should intrigue the Cowboys at pick No. 27.
Ty Sambrailo, Colorado State
Ht. 6057, Wt. 311, Arm: 33", Hand: 10", Bench: 23
40 yd: 5.36, 10 yd.: 1.81, 3 Cone: 7.54, Vertical: 29", Broad: 8'1"
Sambrailo was voted second-team All-Mountain West as junior and first-team as a senior. More than held his own — for the most part — against potential early-round pick Nate Orchard out of Utah.
Strengths: He. Is. Quick. Excellent mirror. Fast kick-slide. Stretch zone experience.
Weaknesses: Must get stronger, but might struggle to add weight. Needs to use hands better. Level of competition.
On the first few snaps, I thought I was accidentally watching the Rams' tight end. Sambrailo is extremely athletic in the mold of the 49ers' Joe Staley and excelled in a run game that looked a lot like the Cowboys'.
Daryl Williams, Oklahoma
Ht. 6052, Wt. 327, Arm: 35", Hand: 9 3/4", Bench: 27
40 yd: 5.34, 10 yd.: 1.75, 3 Cone: -, Vertical: 26", Broad: 8'1"
Williams was a four-star recruit out of Lake Dallas High School and a three-year starter at right tackle for the Sooners. He was named first-team all conference by Big 12 coaches and earned an honorable mention as the conference's Offensive Lineman of the Year.
Strengths: Ideal frame and length for the position. Good athlete for his size. Good burst. Strong.
Weaknesses: Must improve footwork to play outside. Susceptible to speed. Questionable scheme fit right now.
I think Williams is a tackle in a guard's body and is more of a project pick than the previous two guys. He could step in play either guard spot in a pinch and — with some work — has the potential to start at tackle down the road.
Sports Connection
Connecting you to your favorite North Texas sports teams as well as sports news around the globe.
Conclusion
Right tackle Doug Free struggled against speed rushers in pass protection and the team's lack of depth should be a concern. They need to bring in at least one offensive lineman in the upcoming draft and their type can be hard to find after Day 2.
I get the feeling that the best grade available when — and if — the Cowboys pick at No. 27 will be a defensive back or an offensive lineman. Florida State's Cam Erving is the best fit because of his versatility, but Clemmings, Sambrailo and Williams offer at least a potential fit in each of the first three rounds.