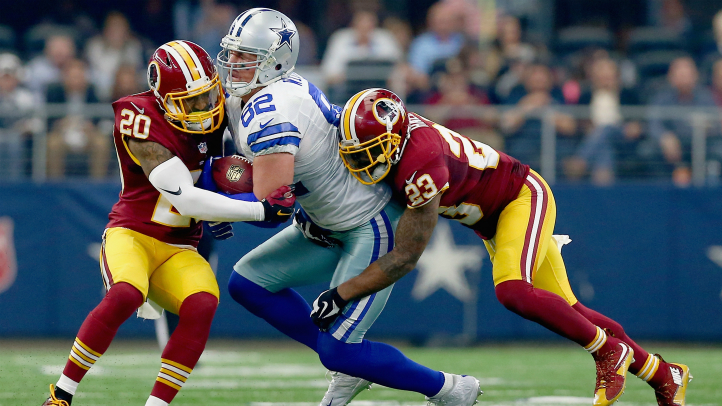 The Cowboys and the Redskins, both 0-1, play Sunday at noon on Fox.
OPENING LINE -- Redskins by 3 1/2
SERIES RECORD -- Cowboys lead 66-44-2
LAST MEETING -- Redskins beat Cowboys 34-23, Jan. 3, 2016
LAST WEEK -- Cowboys lost to Giants 20-19; Redskins lost to Steelers 38-16
AP PRO32 RANKING -- Cowboys No. 24, Redskins No. 21
COWBOYS OFFENSE -- OVERALL (20), RUSH (15), PASS (19)
COWBOYS DEFENSE -- OVERALL (T10), RUSH (21), PASS (11)
REDSKINS OFFENSE -- OVERALL (9), RUSH (30), PASS (5)
REDSKINS DEFENSE -- OVERALL (28), RUSH (26), PASS (23)
STREAKS, STATS AND NOTES -- Cowboys have won three consecutive games at Washington. ... Dallas rookie QB Dak Prescott gets his second start in place of injured Tony Romo (back). Cowboys are 1-14 without Romo since 2013. ... Prescott went 25 of 45 for 227 yards without TD or INT in last week's loss. ... Prescott and first-round draft pick Ezekiel Elliott were first rookie QB-RB duo to start season opener for Dallas since QB Roger Staubach, RB Calvin Hill 47 years ago. ... RB Alfred Morris signed with Dallas as free agent after spending first four NFL seasons with Washington. ... Cowboys WR Dez Bryant has four TD catches in past four games against Redskins. ... Redskins won NFC East last season despite not beating team that finished 2015 with winning record. ... QB Kirk Cousins, playing under franchise tag, did not make strong case for long-term deal in Week 1, with zero TDs and two INTs. ... RB Chris Thompson's first career TD run came last week. ... CB Josh Norman, $75 million offseason signing, was not used to cover Steelers WR Antonio Brown much; Brown caught two TDs while covered by CB Bashaud Breeland. ... Fantasy Tip: Any RB against Redskins is solid choice, so go with Elliott or Morris if you can. ... Washington WR DeSean Jackson (six catches, 102 yards in Week 1) is always good alternative.
Copyright AP - Associated Press