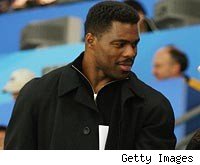 It hasn't been the prettiest game by any means, but the Dallas Cowboys are leading the Giants at halftime in East Rutherford, NJ, 13-10.

Dan Bailey opened up the scoring on the day with a 30-yard field goal to punctuate the Cowboys' first drive and give the Cowboys an early 3-0 lead. He added a 48-yarder in the second quarter, and is 2-for-2 on the day.

After Bailey's first field goal, Eli Manning and the Giants' offense responded by driving 79 yards in just seven plays, capped with a 15-yard run by Orleans Darkwa to take a 7-3 lead. Darkwa, an undrafted free agent out of Tulane, finished the half with 47 yards on six carries.

Bailey's second field goal drew the Cowboys to within 1 of the Giants at 7-6, and they took the lead at the end of their next drive, a six-play, 72-yard march, on a one-yard touchdown run from Darren McFadden.

With a little over a minute left in the half, the Giants' Josh Brown nailed a 47-yard field goal to close the gap to 13-10 going into the break.

McFadden is leading the Cowboys in rushing, with 53 yards on 10 carries. Joseph Randle started the game, but is dealing with a back issue and currently sidelined.

In his first start as a Cowboy, Matt Cassel is 11-for-16 passing for 123 yards, no touchdowns and no picks (though there were a couple of very close calls.)

The Cowboys will receive the kickoff to start the second half.

Copyright FREEL - NBC Local Media