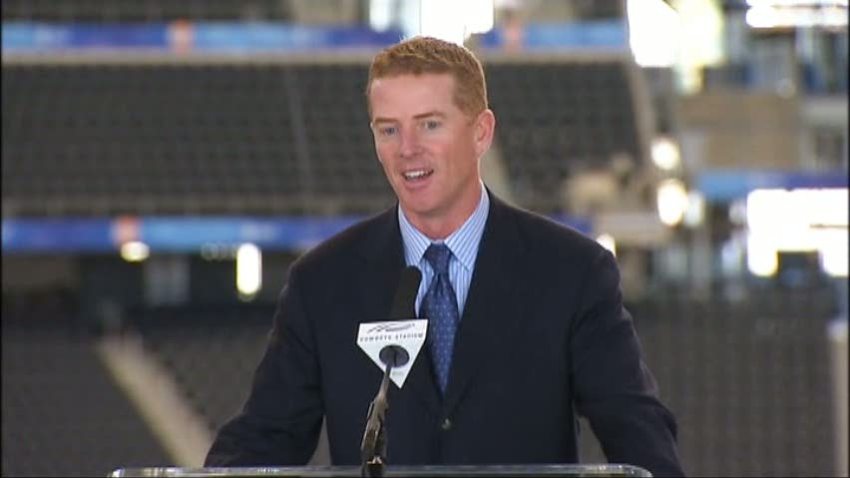 Dallas Cowboys owner Jerry Jones stripped the word interim from Jason Garrett's title Thursday, naming him next head coach of America's Team.
"This introduction brings a head coach that is better known to players and fans of this organization than any Cowboys predecessor at the time of his intorduction. Jason Garrett is the head coach of the Dallas Cowboys," Jones said at Cowboys Stadium in Arlington Thursday. "He's the third man to take this job with a winning record while directing an NFL team as head coach. He's the second man to take the job of head coach of the Dallas Cowboys that has played in the NFL. He's the first man to take on this responsibility who played for the Dallas Cowboys. He's truly one of our own."
Garrett, who will also remain the offensive coordinator for the team, is the eighth head coach in the team's history and the seventh under Jerry Jones.
Sports Connection
Connecting you to your favorite North Texas sports teams as well as sports news around the globe.
"It's my job as the head coach of this football team to do everything I can each and every day to put my best foot forward, so we can put our best foot forward, to get the Dallas Cowboys back to the level that we're capable of being," said Garrett. "I was fortunate to be on teams here in the 90s that went to the top of the National Football League - were the best. I understand how those teams played. I like to refer to it as 'The Cowboy Way.' I think about those teams and the level we played at and how we went about it each and every day those are some of the models that I think about for this football team."
While Jones did interview other candidates for the job, per NFL rules, all signs pointed to Garrett as being his choice. Jones is believed to have also interviewed Cowboys recievers coach Ray Sherman and Miami asssistant head coach, and former Cowboys secondary coach, Todd Bowles.
Bowles is believed to also be in the running for the defensive coordinator position which is speculated to be vacated by interim-DC Paul Pasqualoni.
Garrett was 5-3 with the interim tag and helped the team rebound from a devastatingly awful 1-7 start under former head coach Wade Phillips, who was picked up by the Texans on Wednesday and named defensive coordinator.
Garrett's pedigree suited for helm of America's Team
The Cowboys needed new leadership when a season that began with legitimate aspirations of becoming the first team to play in the Super Bowl at their home stadium went rotten very quickly. Jones fired Wade Phillips at midseason and turned to Garrett, the 44-year-old assistant head coach and one of the highest-paid assistants in the league.
The deck was stacked against him. The team was coming off consecutive blowout losses, playoff hopes were gone and quarterback Tony Romo was out with a season-ending injury. It also was Garrett's first time as a head coach on any level. And, as offensive coordinator, he was partly to blame for the mess.
But the Princeton grad had spent years preparing for the opportunity and knew exactly what he wanted to do.
He started the workday earlier, added hitting to midweek practices, required players to jog between drills and cracked down on rules, including ones he added. He had huge digital clocks installed around the locker room to avoid any excuses about being late to a meeting. He was constantly upbeat.
The Cowboys responded, cutting down on turnovers and penalties, and began forcing other teams into mistakes. They won four games with 38-year-old backup quarterback Jon Kitna and another with third-stringer Stephen McGee making his first start.
Jones believes the Cowboys have enough key players in place to bounce back quickly. Despite the lousy record, Dallas had five players make the Pro Bowl, most from any team.
Garrett will have a say in who stays and who goes, including the coaches. The defense is especially likely to be overhauled after allowing the most points and yards in franchise history. Jones remains committed to a 3-4 alignment.
The NFL labor uncertainty and possibility of a lost season played into Jones' decision. Whenever players return -- as scheduled this offseason, or whenever a new collective-bargaining agreement is done -- they already will be familiar with Garrett. Starting over could slow the turnaround Jones expects.
Garrett is well aware of the challenges and pressures of this job, one of the most high-profile in pro sports. He's spent 12 years with the organization as a player or coach. His brothers John and Judd also are part of the organization, and his father, Jim, was with the club more than 20 years, working for every head coach in team history except Phillips.
Garrett's coaching background includes working with many top offensive minds, including Norv Turner and Sean Payton. He's also consulted with his first coach with the Cowboys, Jimmy Johnson.
Dallas has appeared in a record eight Super Bowls and won five. However, the club is in the midst of its longest drought -- 15 years since reaching the big game, and counting. Dallas has won just two playoff games since its last championship, in 1996 and 2009.
Jones can't afford any more bad seasons because he needs to sell seats, suites -- and perhaps naming rights -- for the team's $1.2 billion stadium that opened last season.
NBC DFW and the Blue Star Blog will update this story as soon as a decision is announced by the team.
Stay on top of the latest Dallas Cowboys news with NBCDFW.com. Foll ow NBC DFW Sports on Facebook or have breaking Cowboys news sent directly to your phone with Blue Star SMS alerts. Text "bluestar" to 622339 (NBCDFW) to subscribe to this free service. Read more about it here.
Copyright AP - Associated Press