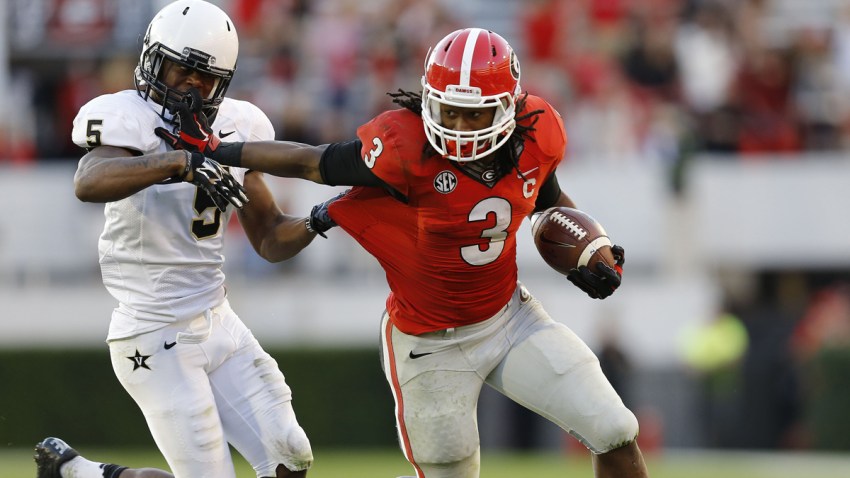 Todd Gurley, RB, Georgia
Ht. 6005, Wt. 222, Arm: 32 1/2", Hand: 10", Bench: 17
40 yd: -, 10 yd.: -, 3 Cone: -, Vertical: -, Broad:-
Games Watched: Clemson, at South Carolina, Auburn
If you think other games better reflect this player's ability or you want to request a profile on a specific player, email me or hit me up on Twitter.
When running back DeMarco Murray signed with Philadelphia, he left a hole at an important position in Dallas. Some Cowboys fans are upset about his departure (despite the number of touches he had last season), but he left the team in a good year to need a running back.
Sports Connection
Connecting you to your favorite North Texas sports teams as well as sports news around the globe.
Enter Todd Gurley. The Georgia running back is pretty much the consensus top back available in the 2015 draft. An ACL injury ended his year after only six games, but he was still voted the team's offensive MVP after he ran for 911 yards and averaged 7.4 yards per rush.
Strengths
Gurley is a flat out violent runner. He explodes into contact and doesn't concede tackles like many NFL backs do. He combines good balance with an optimal frame and looks like a giant pinball bouncing off defenders.
If he doesn't feel like running through defenders, he has the quick feet to move around them. He doesn't dance, though, as he's decisive through holes and doesn't waste motion with unnecessary cuts.
Based on the tape, Gurley appeared to be the most competitive player on the field in the three games I watched. He always falls forward on runs and he's a willing pass protector, even if his results were spotty. It was also surprising to see him return kickoffs, which is crazy for a top draft pick.
Weaknesses
The only obvious weakness is the knee injury. Gurley opted out of medical evaluations, running and jumping at the NFL Combine. Players are recovering from these injuries with more success these days, but it's still a concern.
Anything beyond the injury is nitpicking. One example is how he fits into Dallas scheme of mostly zone runs. Georgia ran man and power blocking schemes almost exclusively, so it might take Gurley time to become fully comfortable in zone.
Verdict: First Rounder
Because of his violent running style, Gurley naturally draws comparisons to Seattle's Marshawn Lynch. Gurley is faster and not quite as physical as Lynch now, but he does resemble Lynch when he was drafted out of Cal.
The draft is where you add elite players, and Gurley is one of about a handful of elite players in this year's draft. It's unlikely that he would fall to No. 27, but the Cowboys would be wise to draft him there if he is.