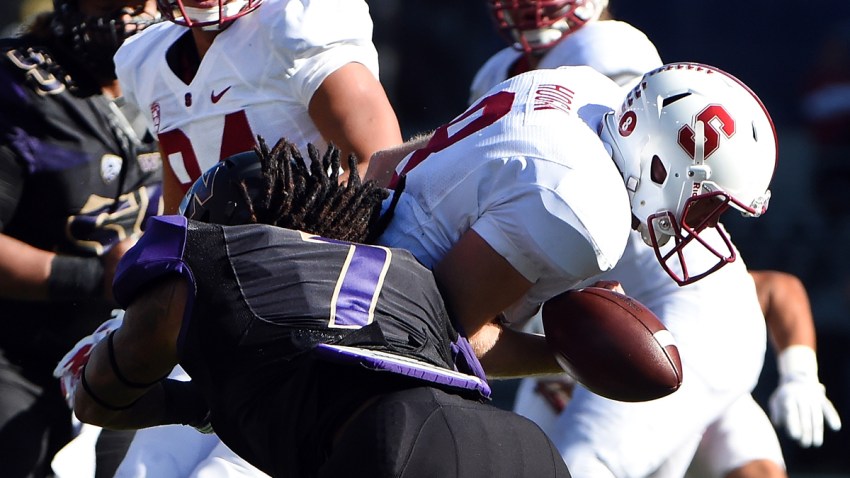 Shaq Thompson, LB, Washington
Ht. 6001, Wt. 228, Arm: 33", Hand: 9 1/2", Bench: -
40 yd: 4.64, 10 yd.: 1.72, 3 Cone: 6.99, Vertical: 33.5", Broad: 9'9"
Games Watched: at UCLA (2013), at Oregon State (2013), Illinois
If you think other games better reflect this player's ability or you want to request a profile on a specific player, email me or hit me up on Twitter.
The Cowboys defense needs help at every level. With questions about the future of DeMarco Murray and Joseph Randle, they could use a running back too. One player obviously can't fill all those roles, but if anyone could, it would be Washington's Shaq Thompson.
Sports Connection
Connecting you to your favorite North Texas sports teams as well as sports news around the globe.
Thompson won the Paul Hornung Trophy in 2014, given to the nation's most versatile player. He's a flat-out playmaker who could project to multiple positions at the next level. He returned three interceptions and a fumble for touchdowns in 2014 and also rushed for two more.
Strengths
Shaq Thompson is an athletic freak.
In the three games I watched, he lined up at defensive end, outside linebacker, inside linebacker and slot corner (strong safety). At defensive end, he showed good hand use and technique running the arc. He looked even better in coverage, sticking to tight ends and slot receivers like glue.
It's easy to see why Washington lists him as a linebacker, though, as he looks natural there. He sheds blockers well, maintains gap discipline and, looks like a running back on defense with the way he consistently meets running backs in the hole…violently.
Speaking of running back, the team that drafts Thompson could always move him there if he doesn't work out on defense. A top recruit at the position out of high school, he started two games on offense for Washington last season, topping 100 rushing yards in each and averaging 7.5 yards per carry. With his size, vision, agility and instincts, it's not a stretch to say he's worth a first-round pick as a runner.
Weaknesses
The only real problem with Thompson is that he's kind of a man without a position. Traditionally speaking, he's too big to be a safety and too small to be a linebacker.
Thompson's primary strength might also be a weakness. He can do so many things well, but there's a chance that his versatility might have cost him reps at any position.
Basically, Thompson might not be ready to step in and play any position on Day 1 and he risks losing athleticism by adding weight that coaches might require.
Verdict: First Rounder
I can't wait to see what happens with Thompson. An innovative coach will make him a star, but a coach that tries to fit this square peg into a round hole might run him into the ground. He resembles Carolina's Thomas Davis at linebacker, Seattle's Kam Chancellor at safety and Georgia running back Todd Gurley at times too.
Ultimately, I think Thompson's best role in the NFL will be as a three-down defender who plays safety in larger packages and linebacker in smaller ones. Rod Marinelli is creative enough to use this unique playmaker correctly, and he makes a lot of sense in Dallas at No. 27.