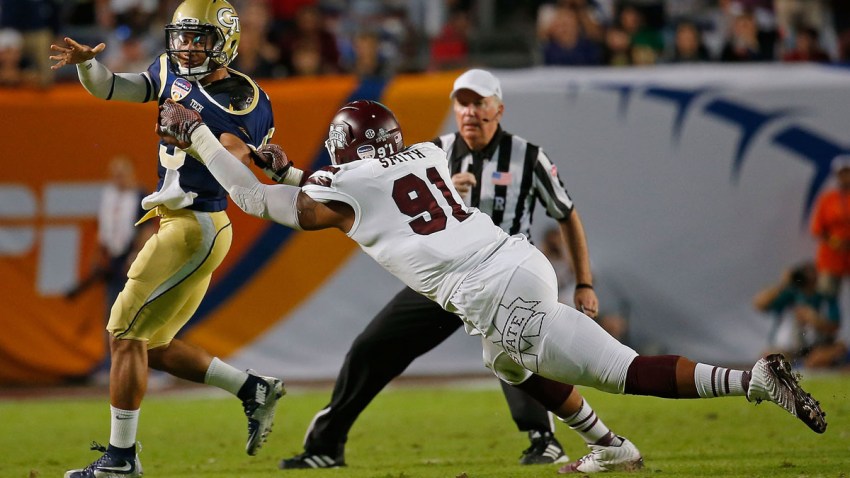 Preston Smith, EDGE, Mississippi State
Ht. 6047, Wt. 271, Arm: 34", Hand: 10 5/8", Bench: 24
40 yd: 4.74, 10 yd.: 1.63, 3 Cone: 7.07, Vertical: 34", Broad: 10'1"
Games Watched: at LSU, Texas A&M, at Kentucky
If you think other games better reflect this player's ability or you want to request a profile on a specific player, email me or hit me up on Twitter.
When a team needs help on all levels of their defense as the Cowboys do, it's best to start up front. Adding a scheme versatile defensive lineman like Mississippi State's Preston Smith would make the Cowboys' front more multiple.
Sports Connection
Connecting you to your favorite North Texas sports teams as well as sports news around the globe.
Named a first-team All-SEC selection last season, Smith led the Bulldogs with 15 tackles for loss, 9 sacks and 15 quarterback hurries. He's still a bit unrefined in some areas, but he has the potential to be an impact player in the NFL very soon.
Strengths
Smith looks like he was made for the defensive line. He has a naturally large frame, pterodactyl-like arms and clubs for hands. He looks like a 270-pound man when he moves, but he looks much bigger when he gets into blockers.
Smith's size and athleticism make him a good fit for any defensive front. He played everywhere from outside tight ends to over the center in college, but he projects between the tackles in the NFL. He looked very comfortable rushing between the guards against a good LSU offensive line.
His technique was inconsistent, but Smith improved in that area throughout the season. And at his best, he showed signs of becoming a monster. When he used his long arms and heavy hands properly, he gave even LSU's possible first-round offensive tackle La'el Collins fits.
Weaknesses
The biggest problem for Smith was his burst off the snap. He moves like a 270-pound man, which is fine, but NFL teams expect better. He was also late off the snap at times, which puts him in an even greater hole.
Smith occasionally showed a good swim move on tape, but he didn't have much else in the way of pass-rushing moves. Plus, tackles easily pushed him past the pocket when he tried to run the arc. There's a good chance he'll struggle rushing the passer against NFL tackles.
Verdict: Day 2 Pick
Smith is listed as an edge defender and could be a strongside defensive end for the Cowboys, but I think he would be miscast there. His career arc could resemble the 49ers' Justin Smith's, who started as a defensive end, at about the same size, in Cincinnati before adding weight, moving inside as a 5- and 3-Technique and becoming an All-Pro.
If Cowboys defensive coordinator Rod Marinelli wants to use multiple fronts, Smith is worth a second-round pick as a 5-Technique and nickel defensive tackle. If they plan to mainly use the 4-3 over front they employed last season, Smith is more of a third-round value who would have to add weight to maximize his ability.
*Combine format for height. First digit is feet, next two are inches and third is eighths of an inch.