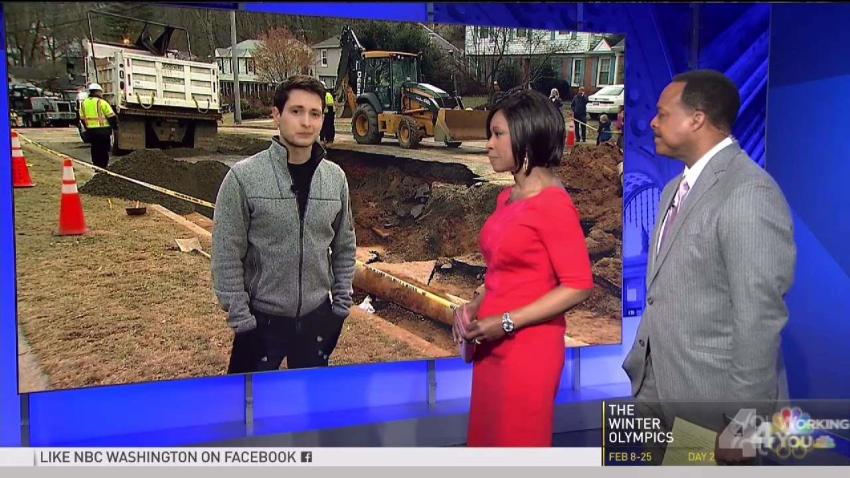 ARLINGTON, Texas - As the scoreboard showed 0:00 Sunday at AT&T Stadium, Dak Prescott unleashed a primal scream and a fist pump.
As Orlando Scandrick walked into the winning locker room, he shouted, "There's still room on this (expletive) ship if you want to jump on."
And as coach Jason Garrett conducted his post-game news conference, the jubilation and excitement from a quality win could easily be heard coming through the walls.
Sports Connection
Connecting you to your favorite North Texas sports teams as well as sports news around the globe.
Dallas 28, Kansas City 17
This win was different than the Cowboys' other four this season. This one was more emotional.
Players and coaches are forever saying they don't see or hear what fans or media are saying about their team or their performance.
That's poppycock.
They typically don't let it affect them, but they know what's being said. That's why Scandrick said what he said and why owner Jerry Jones and vice president Stephen Jones were beaming after the game.
Surely, they had heard the chatter that if they had to play without Ezekiel Elliott for six games, if he was suspended for violating the league's personal-conduct policy, the playoffs were a long shot at best.
And they certainly weren't going to beat the Chiefs and their high-powered offense unless they could keep the Chiefs' offense off the field because the Cowboys' defense wasn't good enough to slow them down.
"It feels good when you beat a good team like we did tonight," defensive end DeMarcus Lawrence said. "We shut them down.
"They run a Chip Kelley kind of offense. You have to read your keys and be on your screws. It's all window dressing. We were all reading our keys tonight and you saw what happened. We shut that (expletive) down."
Yes, they did.
In the process, they gave hope to a season that's been filled with uncertainty as the Cowboys deal with the week-to-week notion that is Ezekiel Elliott's availability.
A Friday reprieve postponed the NFL-mandated six-game suspension he was supposed to start serving on Sunday. Who knows whether he's playing next week against against Atlanta?
If he doesn't, the Cowboys still believe they have a chance to win because their defense is finally developing an identity. No longer must they be protected.
It starts with the defensive line.
"I think we've finally got it like we want it," Stephen Jones said. "All of the guys are playing well,, and they can all get after the passer."
It starts with DeMarcus Lawrence, who leads the league with 10.5 sacks. He didn't get one against the Chiefs, who limited him to just two tackles.
Still, he impacted the game.
Lawrence drew two procedure penalties, pressured quarterback Alex Smith into one incompletion and forced him to step right into a David Irving's path on a key third-down sack in the third quarter with Dallas clinging to a 21-17 lead.
The Cowboys drove 87 yards for a touchdown on their next possession, giving the Cowboys an 11-point lead with eight minutes left.
The Chiefs entered the game tied for No.1 in the NFL with Philadelphia in offensive points scored (216), third in yards (377.9) in yards and No. 1 in plays of 20 yards or more (35).
Smith, the NFL's top-rated passer, had not thrown 16 touchdown passes and no interceptions and running back Kareem Hunt led the NFL in yards (763), average per carry (5.2) and runs of 10+ (21), 20+ (8) and 50+ (3).
Tyreek Hill is a game-breaking receiver and returner and tight end Travis Kelce is among the best in the game at his position.
Hunt, Hill and Kelce normally combine 34 touches and 274 yards per game. The Cowboys limited the Chiefs' big-play trio to 207 yards and two touchdowns on 26 touches.
"We forced them to drive it," coach Jason Garrett said. "And we forced them to convert third downs."
This team has been built around Elliott's running and Prescott's controlled passing since they arrived last season. Finally, the defense doesn't have to be protected.
As long as it can keep linebacker Sean Lee on the field - the defense was atrocious in losses to Green Bay and the Los Angeles Rams where a hamstring injury kept him from playing - this defense is moving in the right direction.
Irving, suspended for the first four games, has been impactful in his return. He has six sacks in four games, and he's good enough to wreck teams that give Lawrence too much attention.
More important, his presence means Maliek Collins can play the other defensive tackle and Tyrone Crawford is at right defensive end.
They helped limit Hunt to 37 yards on nine carries with a long of 19. He never found a rhythm.
"I feel like this team is getting better," Scandrick said. "We're going to continue getting better every week and we're going to continue to practice and do the things it takes - the things winning teams do."
It starts with playing good defense.