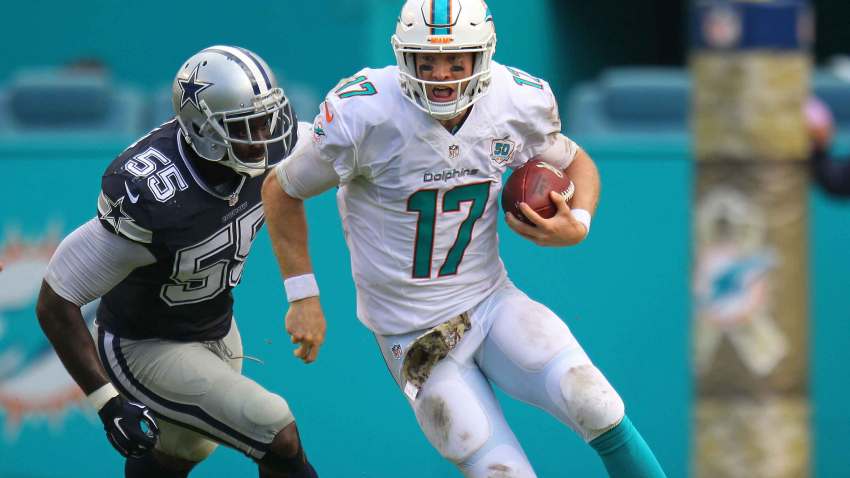 10. Only undefeated teams in the NFL. Panthers (10-0). Patriots (9-0). And the Dallas Cowboys with Tony Romo at quarterback (3-0).
9. The defense again played well enough to win. Rolando McClain awoke from his season-long slumber and – other than two long passes given up by Byron Jones – effectively shut down an admittedly pathetic Dolphins' offense. The defense produced a pick six and after Romo's two interceptions forced Miami punts.
8. The offense wasn't perfect by any stretch, but it did produce 17 points. With just that measly total they Cowboys would've beat the Seahawks and the Buccaneers.
Sports Connection
Connecting you to your favorite North Texas sports teams as well as sports news around the globe.
7. In my continuing amazement at the ridiculousness of TV commercials, let me get this one straight: A Texans' fan is excited about his team's win, so he goes outside – into his car – to scream in joy as to avoid waking up his sleeping baby. Sure, makes sense. But then he repeatedly honks the horn … and wakes up the baby anyway?
6. What I missed about Romo: His instinctive spin escapes, positive ad-libs and gorgeous spirals for touchdowns. What I didn't miss: Him trying to do too much, resulting in two floating, futile interceptions.
5. In a day deserving of very few criticisms, I found it peculiar that Jason Garrett was wearing sunglasses during the early-game rain and then took them off when the sun popped out.
4. Romo and Dez Bryant hooked up for their 50th touchdown, one more than Troy Aikman-Michael Irvin. In a very related story, Romo-Bryant have exactly 11 fewer playoff wins than Aikman-Irvin.
3. What did Romo do? He made Dallas the second-dumbest team on the field for a change. The Dolphins failed to catch a kickoff, forcing them to start at their own 4. Their punter was called for a roughing penalty. And picking off Romo, the offense committed consecutive penalties that prompted a 1st-and-35.
2. No way to minimize this: In Romo's last 21 starts the Cowboys are 17-4. In their last 21 games without him they are 5-16.
1. Romo's back. Cowboys win. Redskins lose. Eagles lose. Giants don't win. In other words, Happy (Early) Thanksgiving!
A native Texan who was born in Duncanville and graduated from UT-Arlington, Richie Whitt has been a mainstay in the Metroplex media since 1986. He's held prominent roles on all media platforms including newspaper (Fort Worth Star-Telegram, Dallas Observer), radio (105.3 The Fan) and TV (co-host on TXA 21 and numerous guest appearances, including NBC 5). He lives in McKinney with his wife, Sybil, and two very spoiled dogs.
Copyright FREEL - NBC Local Media