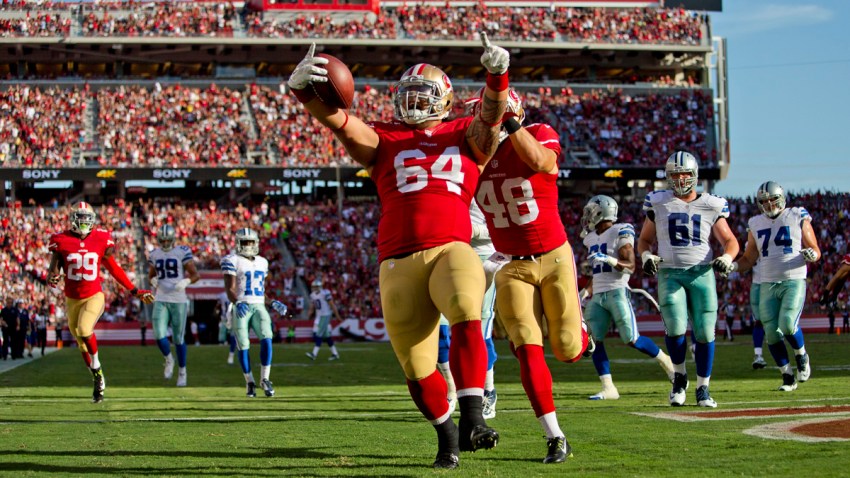 The majority of the offensive line didn't suit up. Dez Bryant wore a towel under his baseball cap. Tony Romo played three snaps.
In other words, it was perfectly imperfect. Because most importantly, no Cowboys were injured in Sunday night's 23-6 loss to the 49ers.
Funny, we breathlessly wait for the return of football for six long months only to get this: the preseason. For some reason the lackluster blowout drew a TV rating of 16.8 on CBS. That translates into 438,000 DFW homes that watched and, let's be honest, just had to be bored to death.
Sports Connection
Connecting you to your favorite North Texas sports teams as well as sports news around the globe.
I mean, witnessing No. 3 quarterback Dustin Vaughan look as inept as a high-schooler was bad enough. But to think, the result – the score – was absolutely meaningless.
No? The Cowboys went 0-4 in the preseason last summer, then turned that around into a 12-4 regular season, complete with a division championship and a playoff appearance. In 2008 the Lions went undefeated in the preseason, then winless in the regular season.
In their history the Cowboys have played over 225 preseason games and I have distinct memories from exactly three of them: 1979 when safety Charlie Waters tore up his knee in a season-ending injury; 1989 when they beat the Oilers on a last-second field goal, sending rookies Jimmy Johnson and Jerry Jones skipping up the Texas Stadium tunnel in naïve joy and optimism; and 2005 when a rookie defensive end named DeMarcus Ware provided a glimpse of his immense talent with three tackles, a sack, two forced fumbles, one recovered fumble, a deflected pass and a diving interception – all in the first quarter.
But, seriously, the preseason doesn't matter. Quick, who did the Cowboys play in the preseason last year? That's what I thought. But ask the Packers (receiver Jordy Nelson) and Steelers (center Maurkice Pouncey) about this year's preseason and they'll say it's been very impactful in a negative way.
I think the NFL does it wrong. Not enough football practices in the offseason and too many exhibition games in the preseason. Caught a little of Bengals-Buccaneers on ESPN last night and I swear there weren't 500 people in the stands in the 4th quarter. When the draft and the scouting combine are more exciting than actual football games, you've got a problem.
Bottom line: Don't allow your major players to suffer major injuries in the preseason. Because in the big picture, it's pointless.
A native Texan who was born in Duncanville and graduated from UT-Arlington, Richie Whitt has been a mainstay in the Metroplex media since 1986. He's held prominent roles on all media platforms including newspaper (Fort Worth Star-Telegram, Dallas Observer), radio (105.3 The Fan) and TV (co-host on TXA 21 and numerous guest appearances, including NBC 5). He lives in McKinney with his wife, Sybil, and two very spoiled dogs.
Copyright FREEL - NBC Local Media