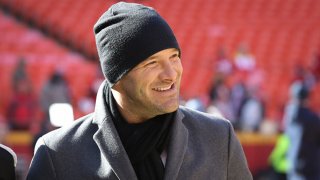 CBS announced Saturday that because of COVID-19 protocols, NFL analyst and former Cowboys quarterback Tony Romo will not be on the call for Sunday's Week 17 game between the Arizona Cardinals (8-7) and the Los Angeles Rams (9-6).
The network did not, however, say whether Romo's removal is because he tested positive for coronavirus or due to contact tracing.
In a similar situation, NBC recently removed Al Michaels from Sunday Night Football back in Week 15.
Read more from NBC 5's media partner The Dallas Morning News.
Copyright The Dallas Morning News