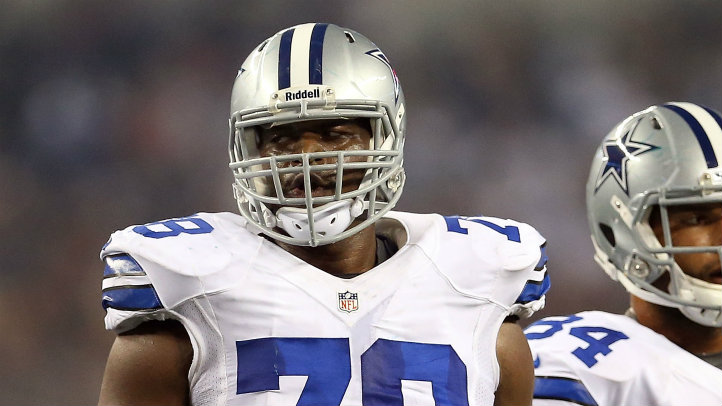 Three weeks from the NFL Draft, most of the talk surrounding the Dallas Cowboys has centered on running backs and defensive linemen. But they also likely have an eye on the tackle position, as they attempt to find a swing tackle to replace Jermey Parnell, who signed a five-year, $32 million deal with the Jacksonville Jaguars last month.

Jerry Jones has said having Parnell ready to step in at either tackle position and play at a high level--as he did for Doug Free on the right side for seven games in 2014, including both playoff games--was one of the great luxuries he's known in his two and a half decades as owner, and he'd like to re-create that luxury with Parnell gone.

The Cowboys could always use Darrion Weems as the swing tackle, if they believe he's ready to step into that role, but we wouldn't be surprised if they looked to the draft for help.

One intriguing prospect is Colorado State tackle Ty Sambrailo, a projected second or third round pick who was a four-year starter for the Rams, and is ultra-athletic for a man of his size (6-foot-6 and 311 pounds).

Rob Havenstein, Travis Frederick's old Wisconsin teammate is another interesting option. A projected mid-round pick, Havenstein is a huge (6-foot-7, 321 pounds) and powerful run-blocker--he worked with Melvin Gordon, of course, in college--and could turn out to be a steal for whatever team gets him.

If Dallas is looking to wait until later rounds, Iowa's Andrew Donnal could be their man. He isn't the strongest tackle, but he's a highly intelligent player who started all 13 games at right tackle for the Hawkeyes in 2014, earning Honorable Mention All-Big 10 honors in the process.

Copyright FREEL - NBC Local Media