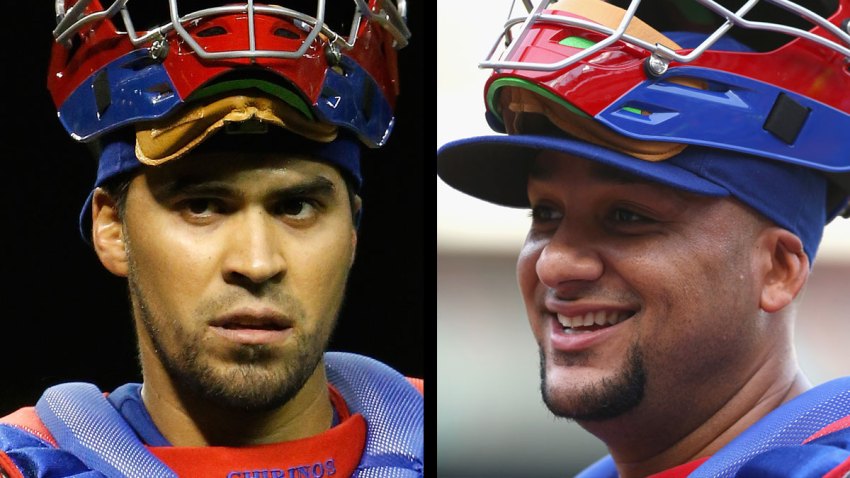 Over the past few offseasons, the Texas Rangers have been linked to some big-name free agent catchers, and they've passed them up each time.
Whether it was Brian McCann or Russell Martin, the Rangers have opted to go the cheap, unheralded route behind the plate, and so far it's worked out pretty well for them.
Not since 2011 and 2012 when Mike Napoli was behind the plate for the Rangers have they had an offensive force at the catcher position, which frankly, is a rarity in the league and a luxury more teams lack than have.
Sports Connection
Connecting you to your favorite North Texas sports teams as well as sports news around the globe.
It'd be a huge stretch to call the platoon of starter Robinson Chirinos and backup Carlos Corporan an offensive force, as their combined batting average this year is right at .200, but as far as producing runs, the duo is holding its own.
Taking a look at the top offensive catchers in the American League this year, it starts with Oakland's Stephen Vogt, who's batting over .300 and has 13 homers and 53 RBIs. Then, there are some of those names we discussed earlier in McCann and Martin along with Kansas City's Salvador Perez. They all have between 11 and 13 homers and 34 and 49 RBIs.
Now, aside from batting average, let's look at the run production the Rangers have gotten from Chirinos and Corporan, who homered on Monday night in the Rangers' offensive outburst.
The two have combined for 10 home runs and 40 RBIs, putting them right on par with some of the biggest run-producing catchers in the league.
Want to take pot-shots at Rangers general manager Jon Daniels? Well, that's fine, but try this one on for size. Vogt is making the big-league minimum for the A's, but those other guys are big-money catchers. Perez is making $1.75 million, and that's cheap compared to McCann ($17 million) and Martin ($7 million).
Chirinos is making $518,000 like Vogt, and Corporan is making $975,000.
Seems like pretty good cost efficiency, eh?
Copyright FREEL - NBC Local Media