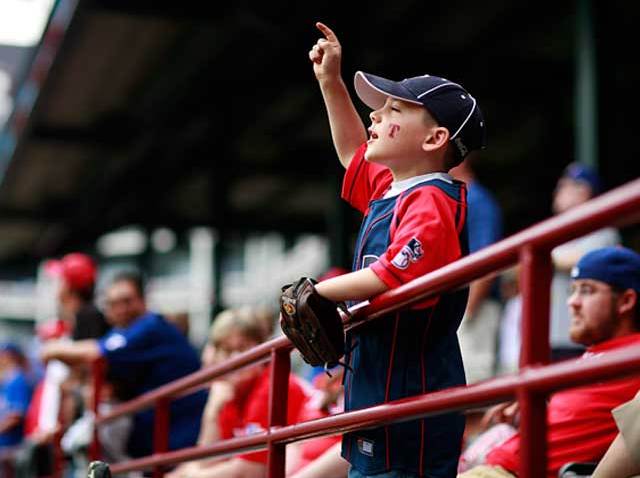 Starting Friday, true fans and new fans are celebrating more than just the Texas Rangers' winning ways.
Rooting for the home team has never been more affordable.
"We are immediately reducing the price of hot dogs, soda, beer, parking and ball caps -- which I think are five of the staples in life," said the team's new managing partner, Chuck Greenberg.
Sports Connection
Connecting you to your favorite North Texas sports teams as well as sports news around the globe.
A day after Major League Baseball formally approved a sale that pulled the Rangers out of bankruptcy, the team's new ownership group led by Greenberg and Hall of Fame pitcher and team president Nolan Ryan announced lower prices for concessions, parking and merchandise. Those went into effect Friday night for the start of a weekend series against Boston.
"It's encouraging to have new ownership come in and reach out to the fans because of all that we've gone through this year," Rangers fan Paul Schubert said.
Whereas parking used to cost Schubert and other Rangers fans $12, it's now $10.
"I think everybody needs help these days to save a little money," Rangers fan Patty Gibbs said.
Hot dogs are among the other hot deals. The price of a jumbo frank dropped 50 cents to $4, and the cost of a bottled beer went from seven bucks to $6. Soda in souvenir cups was also down from $5.75 to $5.
"I just know with the concessions, they seem to be a lot happier and buying a little bit more," said beer vendor Jeff Karwich, who worked Friday night's game.
The most-reduced concession was hot chocolate from $3 to $1, but with the recent triple-digit heat, it's not a big seller.

The price of some Rangers merchandise has also been reduced. Ball caps are $3 bucks. And fans who turn in a cap from another MLB team get an extra 20 percent off.
"It's a great gesture for the fans and the right thing to do," LeAnn Mowrer said.
Greenberg said the price drops are only the beginning. His group plans to hold a series of town hall meetings and online chats with fans to get their feedback and see what they want.
He said the immediate lowering of costs for fans at Rangers Ballpark and the increased price paid in auction last week to get the team for $590 million will not affect plans by the new group of 18 investors for upgrades at Rangers Ballpark and keeping their players.
New Owners Also Eyeing Payroll Increase
The team's new owners are also preparing for the increase in payroll they know will be necessary for the AL West leaders to have a chance at keeping Cliff Lee and their core group of players past this season.
"We're fully prepared to bear the cost of that, and do it with a smile because we're here to win," Greenberg said.
Lee is the ace left-hander the Rangers managed to get a trade from Seattle on July 9, despite their uncertain situation then, and the New York Yankees also pursuing the pitcher. Lee can become a free agent after this season and is likely to be one of the most coveted and expensive players if he is on the market.
"Right now, the terms are secondary. What matters most now is demonstrating that this is a family," Greenberg said.
He said the Rangers have "a pretty good idea" of what it will cost, but didn't get specific.
Lee, who is 2-2 with a 2.97 ERA in seven starts for Texas with two complete-game losses, said having the ownership and bankruptcy cleared up makes it easier for him to consider staying in Texas past this season.
"Obviously, you wanted that taken care of. It's more of a stable situation, for sure. It's good for the organization," Lee said. "Yeah, it's better than a bankrupt situation, for sure. It's more attractive, yeah."
Slugger Josh Hamilton, the majors' leading hitter, is eligible for salary arbitration after this season. The two-time All-Star is making $3.25 million this season, a bargain for a potential MVP.
Greenberg and Ryan, who was not at the ballpark Friday, have already met with general manager Jon Daniels about the roster.
"We feel like we have a pretty good handle on how to keep this team together with Cliff as a part of it," Greenberg said. "It's nothing that frightens us, and we'd be real happy to go into next season with that group and the cost that we project."
The Rangers have one of the lowest payrolls in the majors this season at around $55 million.
"Right now this roster is a lot more valuable than it is expensive, and that's because of the relative youth and where players are in the economic system that baseball has," Greenberg said. "Our payroll is going to rise on its own, it's nothing we need to make a conscious decision to do. ... To go out and say we're going to be at this club's level or that club's level would be a foolish thing to do, because it would be an artificial number."
There are also plans for significant improvements to the 16-year-old Rangers Ballpark, including new video boards.
Copyright AP - Associated Press