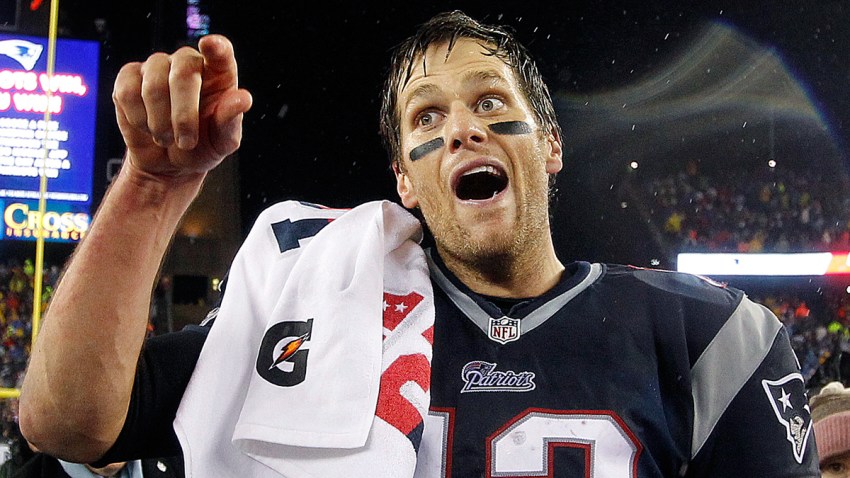 A perverted twist detoured this blog.
I sat down at the keyboard prepared to preach honesty, integrity, liberty and justice for all. I'd unfurl the flag, release a bald eagle and queue Lee Greenwood's "Proud To Be An American." Because I just knew that Tom Brady's four-game suspension for being a cheater and a liar would be upheld and the lesson would be reinforced that living life within the rules was a good thing.
The promising examples were trending in the right direction:
Sports Connection
Connecting you to your favorite North Texas sports teams as well as sports news around the globe.
Ashley Madison adulterers outed. The Kentucky marriage-license clerk being called into the federal principal's office. Rogue cops losing their jobs after inexplicably using deadly force. Drivers pulled over this morning in the Central Expressway HOV lane, handed $200 tickets for not having at least one passenger. And yes, Brady and the Deflatriots disciplined justly because of …
And then, suddenly, this: Federal judge Richard Berman overturned Brady's suspension this morning. He will play in Week 1. He will play Oct. 11, when the defending Super Bowl champs come to AT&T Stadium to play the Cowboys.
Double. Vomit.
Moral to the sad story: If you're going to break the rules, be sure and destroy the evidence.
I'm all for "innocent until proven guilty," but this absurd episode will only give fuel to the cheaters, short-cutters, bullies and liars who will now rise, puff out their chests and smugly repeat "Oh yeah, prove it!"
Right, Greg Hardy?
In the wake of this landmark victory by Brady, surely the Cowboys' defensive end will appeal his suspension. Even though he was originally found guilty of domestic abuse. And even though his original eight-game suspension has already been trimmed to four. What's he got to lose? Now we know what he can win. And that he has a legit chance to win.
Certainly the NFL made mistakes in its handling of Deflategate. (If they were so sure of their stance, why pre-emptively file a lawsuit in federal court? And why did commissioner Roger Goodell not allow Brady's attorneys to view the NFL's investigation notes as requested?) The NFL will appeal, but it will take months to play out, all the while Brady plays.
But here's what I won't forget, and I hope you don't either. Brady's cell phone shenanigans make him guilty.
In response to finding improper, underinflated footballs used in last season's AFC Championship Game, the NFL hired independent attorney Ted Wells to investigate. During that process, he wanted to know the contents of Brady's cell phone. Not the physical phone, just the details of texts and emails between the quarterback and team managers, etc. about key words like "inflation", "deflation", "PSI", etc. Wells didn't want the gun, just the details of when and where it was fired in a certain direction.
Brady refused, and eventually said that he destroyed the phone. OK, I get it. He has some private stuff on his phone. Sponsor deals. Teammates' contact info. Pics of model wife Giselle. He wipes his phones clean from time to time. Sure.
But here's where he's guilty. Brady kept a phone for 17 months, got a new one, and kept it for only four months. Why? Check out the timeline. Wells met with Brady on March 6, at which time he asked for the phone records. One guess as to when Brady decided to get a new phone and, yep, destroy the old one.
Sure enough, March 6.
Said Wells in his final report, "I think that was one of the most ill-advised decisions I have ever seen because it hurt how I viewed his credibility."
Wells' report said the Patriots made a "deliberate effort" to gain an advantage by deflating footballs, and that Brady was "generally aware of the scheme." Using the findings, the NFL suspended Brady for four games and docked the Patriots $1 million and two draft picks.
Said Brady when asked about the fishy timing of destroying a phone hours after having an investigator ask for its contents: "That's what I do."
Slide over, Ray Lewis. You've got company amongst "free" men who destroyed evidence.
So cage the eagle, mute the music and re-route this blog. Today, On the brink of real progress, America took a step back today and went soft on cheaters.
A native Texan who was born in Duncanville and graduated from UT-Arlington, Richie Whitt has been a mainstay in the Metroplex media since 1986. He's held prominent roles on all media platforms including newspaper (Fort Worth Star-Telegram, Dallas Observer), radio (105.3 The Fan) and TV (co-host on TXA 21 and numerous guest appearances, including NBC 5). He lives in McKinney with his wife, Sybil, and two very spoiled dogs.
Copyright FREEL - NBC Local Media